Coffee & Chocolate Braised Lamb Spare Ribs
Makes 5-8 Servings
WINE PAIRING
Cabernet
Lamb spare rib racks are small, just the right size for appetizer portions or serving multiple racks as an entrée. Here they're braised in a coffee, chocolate, tomato and pepper sauce which has an almost mole-esque flavor. It's not very spicy, just deliciously savory.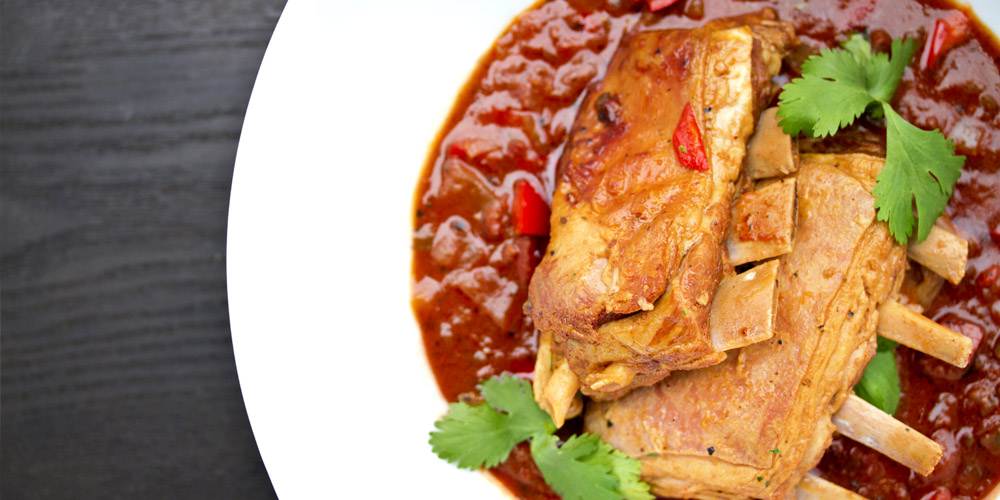 INGREDIENTS
5lbs Lamb Spare Ribs

1/8 cup (19 grams) Bittersweet 70% Dark Chocolate, chopped

¼ cup High Heat Oil (grapeseed, safflower, etc)
Braising Liquid

1 large Onion – medium dice

1 large Red Bell Pepper – medium dice

1 large Jalapeno Pepper – seeded and finely chopped

2 tbsp Brown Sugar

1 tsp Ancho Chile Powder

1 tsp Dried Oregano

1 tsp Ground Cumin

2 cups Strong Brewed Coffee

28 oz Canned Tomatoes, diced

1 tbsp Tomato Paste

Salt & Pepper
DIRECTIONS
1
Preheat your oven to 300˚F.
2
Combine all the braising liquid ingredients.
3
Season the spare ribs with salt and pepper.
4
Oil the bottom of a deep, oven-safe pot with the high heat oil. Get it quite hot over medium-high heat and sear the spare ribs on all sides to develop a nice brown crust. You'll likely have to work in batches.
5
Reduce the heat to medium & remove the ribs to a plate. Add the onion, bell pepper and jalapeno. Saute until the onion turns translucent.
6
Add the chile powder, oregano, cumin and brown sugar to the pot. Cook, while stirring, for five minutes.
7
Stir in the coffee, tomatoes and tomato paste and bring the mixture to a boil.
8
Add the spare ribs to the pot along with any juices that have collected on their plate.
9
Return the braising liquid to a boil, put a lid on the pot and move it to the oven to braise until the ribs are tender (approx. 2 hours).
10
Remove the pot from the oven. Remove the ribs from the braising liquid and set them aside.
11
Skim about half the fat from the surface of the braising liquid. Put the pot on the stove over high heat. Simmer the braising liquid until it thickens enough to coat the back of a spoon.
12
Reduce the heat to low and stir in the chocolate until it's melted into the sauce. Taste and add salt as necessary. Serve the ribs with the sauce, garnished with cilantro.