Lamb Loins w/ Citrus Balsamic
Here we've served it with a toasted breadcrumb topping flavored with herbs, orange & fennel pollen along with brussels sprouts and Italian fregola sarda couscous.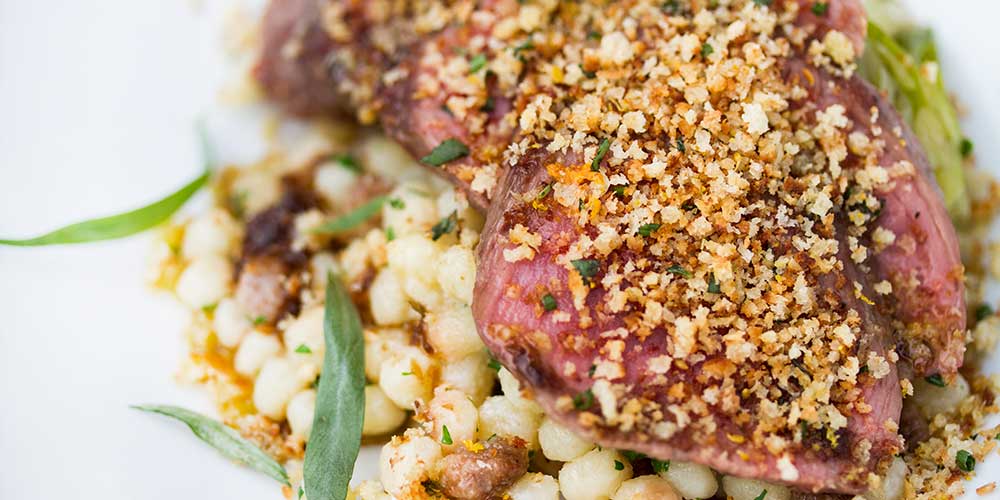 INGREDIENTS
Seasoned Breadcrumbs:

2 cups Breadcrumbs

1 tsp finely shredded Orange Zest

1 tsp Fennel Pollen

1 tsp minced Fresh Chives

1 tsp minced Fresh Tarragon

Pinch Cayenne Pepper
Roasted Brussels Sprouts:

2lbs Brussels Sprouts

1 tbsp Canola Oil

Salt
Citrus Balsamic Sauce:

½ cup Balsamic Vinegar (use a lower end version)

1" piece Fresh Ginger, peeled & thinly sliced

Zest of 1 Lemon, finely grated

Zest of 1 Lime, finely grated

Zest of 1 Orange, finely grated

Zest of 1 Grapefruit, finely grated

1/2 cup Extra Virgin Olive Oil

Pinch of Salt
DIRECTIONS
1
Trim the fat caps and silverskin off the loin fillets.
2
Season the loin fillets with salt & pepper. Sear them in an oiled pan over high heat to around medium rare.
3
Move the loins from the pan to a plate. Loosely cover them with foil and let them rest.
4
Brown the breadcrumbs in the pan drippings over high heat, stirring frequently.
5
Remove the pan from the heat and stir in the orange zest, cayenne, chives, tarragon and fennel pollen.
Roast the Brussels Sprouts:
6a
Preheat your oven to 350 degrees.
6b
Peel the outside leaves off the brussels sprouts. Trim the stem down and quarter them.
6c
Blanch the brussels sprouts in heavily salted boiling water for six minutes. Drain off the water.
6d
Toss the blanched sprouts in canola oil, season them with salt & pepper, and spread them out in a baking dish. Roast them in the oven until tender.
7a
Boil the fregola sarda in heavily salted water until tender.
7b
Drain off the water & toss with salt, minced parsley & extra virgin olive oil.
8a
In a pot combine the balsamic vinegar, ginger & citrus zests. Simmer to reduce over medium heat.
8b
When the balsamic has almost reduced down to nothing (but before it starts to burn), add the salt and extra virgin olive oil.
9
Put the fregola sarda & brussels sprouts in bowls or on plates.
10
Thinly slice the merino loins against the grain & serve them atop the fregola & brussels sprouts. Top them with the balsamic sauce and breadcrumbs.