Lamb Loin w/ Walnut-Lemon Sauce
The walnuts and braised onions in this recipe bring richness and roundness of flavor, while the lemon and cherry tomatoes add the perfect pop of bright acidity. The combination is delightfully unusual, yet still allows the lamb to be the star of the show.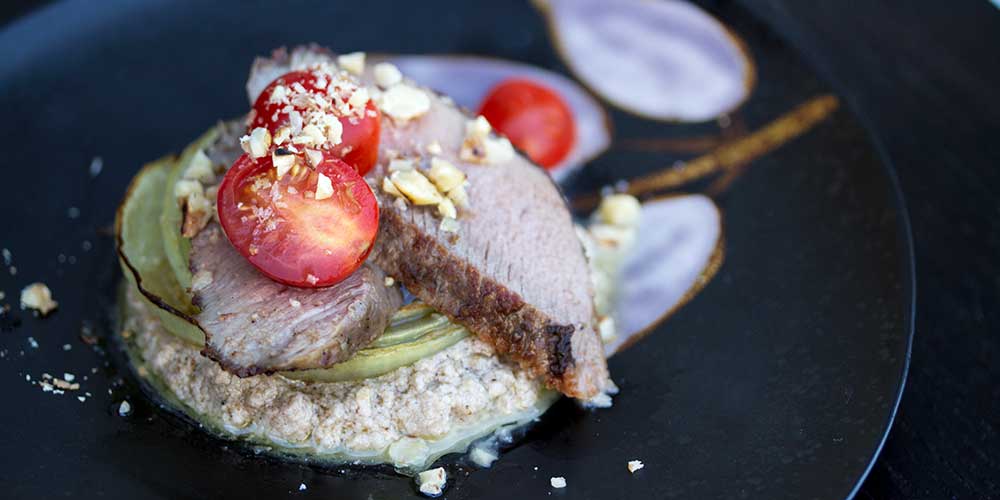 INGREDIENTS
Marinade:

½ cup Extra Virgin Olive Oil

1 tbsp Whole Coriander

1 Garlic Clove, peeled and crushed

5 Whole Black Peppercorns

1 Lamb Loin Fillet, trimmed of fat cap and silver skin
Walnut Sauce:
1 ½ cups English Walnuts, toasted

¼ cup Extra Virgin Olive Oil

¼ cup Meyer Lemon Olive Oil

¼ cup Vegetable Broth (use a low-sodium version if using store-bought)

Juice of 1 Lemon (about 2 ½ tbsp)

Salt and Pepper, to taste
Braised Onions:

2 Large Yellow Onions, sliced into ½" rounds

1 stick Unsalted Butter

½ cup Extra Virgin Olive Oil

1 sprig Fresh Marjoram

Salt to taste
Marinated Tomatoes:

1 pint Cherry Tomatoes, halved

½ cup Champagne Vinegar

½ tsp Salt

Garnish:

English Walnuts, toasted and chopped
DIRECTIONS
1
Combine olive oil, coriander, garlic and peppercorns in a saucepan and bring just to a simmer. Let cool completely then combine with the lamb loin fillet in a covered dish or zip-top bag and marinate in the fridge overnight. Remove lamb loin from the marinade and pat dry with paper towels or a clean kitchen towel, then place in vacuum bag and seal. If not using the sous vide method, simply remove the lamb from the marinade and pat dry just before cooking.
2
Add the halved cherry tomatoes, champagne vinegar & ½ tsp salt to a bowl and stir gently to combine. Allow to sit at room temperature for at least an hour, and up to four hours.
3
Preheat the oven to 300° F. Place onion slices in a baking dish and cover with olive oil, butter, and salt to taste. Add the sprig of marjoram on top, cover with foil and slow roast until soft, about 40 minutes. Remove foil and turn the oven up to 425° F, just long enough to give the onions some golden brown color.
4
Pulse the walnuts in the food processor until well ground. With the processor running, add the lemon juice, veggie broth, and then the olive oils in a thin stream to create a thick sauce consistency. Season with salt and pepper.
5
If using the sous vide method, set your water bath temperature to 115° F (for medium rare doneness) and cook the lamb loin for one hour. If you prefer your lamb cooked further, increase the water bath temperature—see our
sous vide steaks temperature chart
for suggestions.
6
After an hour, take the lamb loin out of the bath and the pouch. Pat it dry with a paper towel or clean kitchen towel and sear in heavy pan over high heat for 30 – 45 seconds on each side. Since it is already cooked to the perfect interior temperature, it only needs enough time to get a nice color on the outside. Rest, loosely covered, for ten minutes before slicing.
7
If you are not using the sous vide method, the lamb loin can be cooked in a heavy pan (we like cast iron) over medium-high heat for four to six minutes per side for medium rare. Rest for ten minutes before slicing.
8
Spoon a couple of tablespoons of the walnut sauce onto each plate. Place an onion round on top of the sauce, then the lamb slices. Top with marinated tomatoes, then garnish with chopped walnuts and micro chives.