Lamb Racks w/ Baba Sauce & Fennel Salad
Tender, lamb racks pared with a baba ghanoush-inspired sauce and a creamy, fresh fennel salad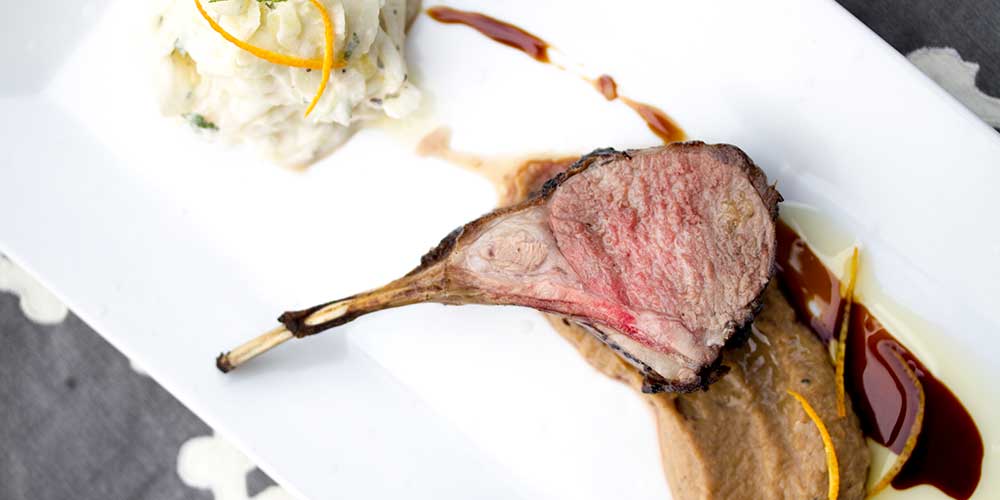 INGREDIENTS
Marinade:

1/2 cup Shallot, sliced into thin rounds

1 large sprig Fresh Rosemary

Fresh Cracked Black Pepper

1 tsp Smoked Alaska Flake Sea Salt

Two 2" strips of Orange Zest

4 tbsp Extra Virgin Olive Oil

2 cloves Black Garlic
Baba Sauce:
Part 1:

1 large Eggplant

1 tsp Colatura Fish Sauce

2 tbsp Orange Juice

¼ tsp Smoked Salt

1 tsp Chopped Fresh Rosemary

½ tsp Orange Zest

1 tsp minced Shallot

2 tsp Honey

1 tsp Extra Virgin Olive Oil

Part 2:

2 tbsp Crème Fraiche

1 tbsp Pomegranate Molasses

1 clove Black Garlic

1 tsp Smoked Salt
Fennel Salad:

2 cups Fennel Bulb, sliced paper thin

Juice of ½ Orange

½ cup Crème Fraiche

1 tbsp Fresh Mint, minced

Smoked Salt to Taste

Freshly Cracked Black Pepper to Taste

Orange Zest

Smoked Olive Oil
Finishing the Plate:

Flake Salt

Pomegranate Molasses

Smoked Olive Oil

Thinly Sliced Orange Zest

Thinly Sliced Mint Leaves
DIRECTIONS
1
Rub each rack with one clove of the black garlic.
2a
If you have a chamber vacuum, Put the racks into individual vacuum bags with 2 tbsp of sliced shallot and half of the rosemary sprig, 1 orange zest strip, ½ tsp smoked salt, 2 tbsp extra virgin olive oil and some of the black pepper.
2b
If you don't have a chamber vacuum, mince the rosemary and use a fine-toothed zester (microplane) to remove the zest from the orange.  Put both racks in one container with all the marinade ingredients.   Marinate at room temperature for 1 hour.
3a
If you have a grill: prick the eggplant all over.
3b
If you don't have a grill: remove the top from the eggplant, cut it in half and deeply score the inside flesh with a knife.
4
In a small bowl, whisk together all the baba sauce – part 1 ingredients (besides the eggplant) from the list above.
5
Drizzle this mixture over the eggplant, and rub it into the cut grooves.
6a
If you have a grill – wrap in foil & grill for 30 minutes until cooked through, then remove the foil and continue to grill, rotating, until charred on all sides.
6b
If you don't have a grill, cut the eggplant into large pieces and place it in a small roasting pan, cut-side up, and broil until the top is blackened.  If the eggplant hasn't softened, turn the oven temperature to 400 degrees and roast until soft.
7
In a small bowl combine the fennel bulb, orange juice, crème fraiche, black pepper, smoked salt and mint.
8
Scoop the flesh out of the eggplant and combine it in a food processer with the remaining baba sauce ingredients (part 2).  Process to a smooth puree.
9
Change your oven temperature to 400 degrees (if you haven't already).
10
Remove the lamb racks from the marinade.  Get a skillet oiled with high heat oil very hot.  Sear the racks on all sides.
11
Move the lamb to the oven to roast until cooked to your desired level of doneness.
12
Remove the lamb from the heat, loosely cover it with foil, and let it rest for 10 minutes.  Slice into chops.
13
Drizzle (swoosh) plates with some of the pomegranate molasses.  Spread some of the baba eggplant sauce on the plate.  Plate the chops above the sauce, then place some of the fennel salad on the side.
14
Finish the chops with some of the smoked olive oil, thinly sliced orange zest, flake salt to taste & thinly sliced mint leaves.  Serve.