Makes 6 Servings
WINE PAIRING
Washington Merlot
Rich, unctuous, & fork tender.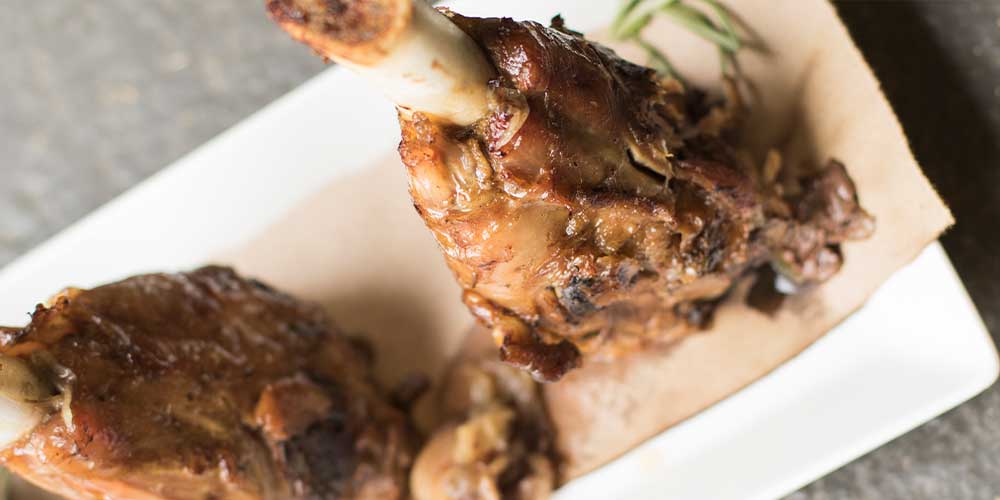 INGREDIENTS
6 Lamb Hindshanks (could substitute Foreshanks)

3 sprigs Fresh Rosemary, leaves finely chopped & stems discarded

8 cloves Black Garlic, peeled

½ tsp Salt

3 tbsp High Heat Oil (Safflower, Canola, Grapeseed, etc)

2 Shallots, sliced into thin rings

Salt & Pepper
DIRECTIONS
1
Preheat your oven to 250°F.
2
Cut slits into the shank meat.
3
Season the shanks liberally with the salt & pepper and sear them in a large skillet (coated with the high heat oil) until the meat is browned on all sides.
4
Mash together the black garlic, minced rosemary and ½ tsp of salt.
5
Press the black garlic mixture into the slits cut into the shank meat.
6
Wrap the shanks in foil with the shallots (1 heavy pinch of shallots per shank), each in their own pouch.
7
Put the foil wrapped shanks in a baking dish and roast them until tender (about 1 1/2 -2 hours).
8
Unwrap the shanks and serve them with the shallots from the foil and your choice of sides.