Kurobuta Bacon Glazed with Chile, Maple & Vinegar
Makes 4-6 Servings
WINE PAIRING
Vouvray Sec
Glazed (aka "lacquered") bacon is easy to make, but will blow people's minds when served at breakfasts, brunches, or in sandwiches.  This recipe makes an addictive bounty of crispy tangy/sweet/slightly spicy/porky strips of deliciousness.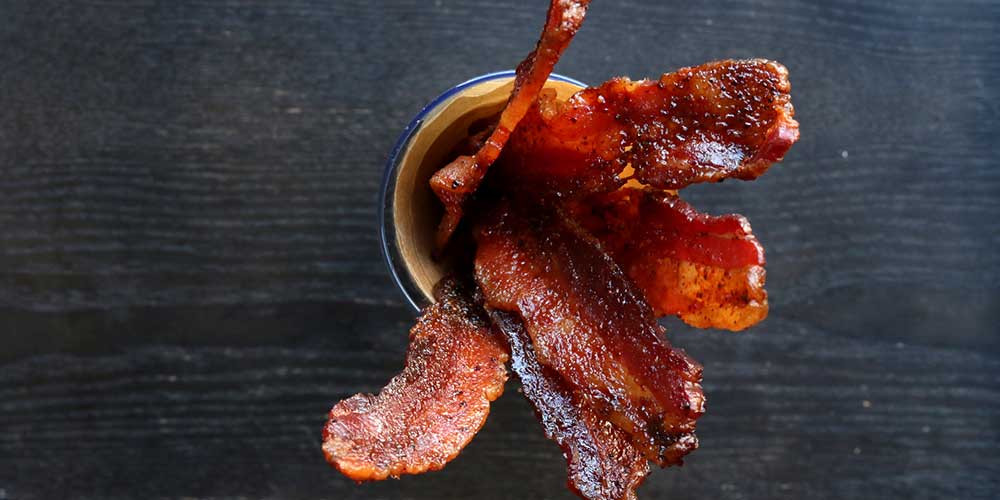 INGREDIENTS
Maple Syrup Espelette Glaze:
1 tbsp Espelette Pepper Flakes (could substitute other medium heat chile flakes)

¼ cup Maple Syrup (we used A Grade, but B Grade would be better)

1 tsp Red Wine Vinegar
DIRECTIONS
1
Lay the bacon out on a baking sheet with a lip.
2
Put the baking sheet with the bacon in a cold oven, then set the temperature to 400°F (you want the oven to "preheat" with the bacon in there).
3
Whisk together the glaze ingredients in a bowl.
4
After ten minutes, pull the bacon out of the oven & liberally brush the slices with the glaze.
5
Return the bacon to the oven and roast for an additional 25 minutes.
6
Remove the bacon pan from the oven and pour off the fat (reserve it, it's an amazing cooking fat for baked beans, stews, veggies, etc).
7
Return the bacon slices to the oven and continue to roast until they crisp up (check every 3-4 minutes).
8
Remove the bacon from the pan and drain it on a cooling rack or paper towels.