Daniel from Full Custom Gospel BBQ brings us just what we need on this cold rainy Seattle day.  His blog typically only consists of reviews of BBQ joints, but the below recipe makes clear that Daniel should also be sharing his own food with the blogosphere.
———
With little excitement my wife told me a small box had come in the mail for me and was waiting for me in my chair in the living room. I knew the box held a pound of the finest cured Mangalitsa pork so I swiftly cut the tape and opened it to reveal a hunk of beautiful pork belly. Justin at Marx Foods said the cut of meat would be a surprise, and I was happiest to get the belly. Not being able to wait for a pan to heat up, I sliced off the thinnest of portions and placed the cured product on my tongue. It had a swift punch of salt with amazingly silky fat with a meatiness that played third fiddle. Now I needed to build a recipe around this flavor.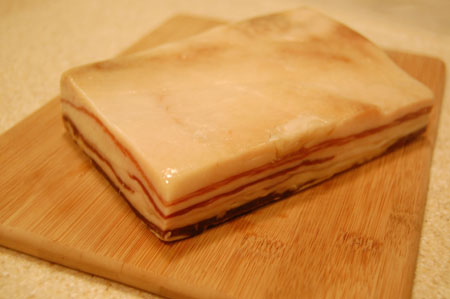 In Texas when a bit of cold gets in the air you know it's time for gulf oysters, so they immediately came to mind as a companion for the pork. While I wanted to be sure and create a recipe that highlighted the pork, the high level of saltiness would have been too much if I were to use it too liberally. Slicing it thin and frying it allowed the fat to almost bubble up and created an airy texture to the meat that literally melted on the tongue. Sautéing varying sizes of diced meat proved that the smaller pieces created little pops of salty goodness while larger pieces were literal salt bombs. Now I just needed to incorporate them into the oysters. I'd just grilled some oysters a couple weeks ago with great success, and what better to top them with than a thin slice of the Mangalitsa belly? I needed heat above to crisp the pork, so I opted for the broiler this time. Just the oyster and the pork were a good combo, but this recipe needed more depth.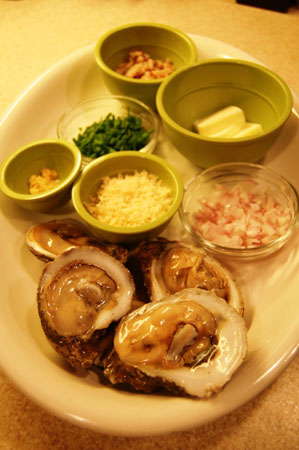 Grilled oysters like the ones at Acme in New Orleans use lots of butter and parmesan as the toppings. Parmesan would work well with the pork flavor, and what better stand-in for butter than the melted pork fat. I diced the pork into small chunks before frying and let the fat render out into the pan before adding some diced shallots. A bit of garlic added depth to the mix and a quick deglazing of the pan from a sweet white wine played well against the saltiness of the meat. Stirring in some chives and butter to finish the sauce, I poured the mixture over the oysters sitting on the broiler pan that had each been prepped with a nice pile of parmesan.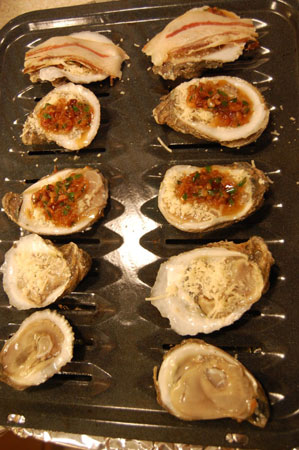 In order to cook the oysters fully before burning the thin slices of belly that would top them, I placed them under the broiler without the pork for a couple of minutes. After adding the thin sheets of silky pork belly they needed only a few more minutes to crisp the meat and complete the cooking of the oysters. After topping with more of the chopped chives, they were ready to eat…preferably in one bite.
Mangalitsa Pork Belly Topped Oysters
1 dozen raw oysters on the half shell
3 oz small diced cured Mangalitsa pork belly
10 very thin slices cured Mangalitsa pork belly
¼ cup diced shallots
2 cloves diced garlic
½ cup sweet white wine (Riesling)
¼ cup chopped chives
3 T unsalted butter
1/3 cup shredded parmesan
Saute Mangalitsa pork belly in a hot pan until fat is rendered out and meat has browned. Do not drain fat. Add shallots and continue on high heat until shallots soften. Add garlic and sauté 30 seconds until frangrant. Deglaze pan with wine and reduce until little liquid remains. Off heat, add butter and half of the chives. Stir until combined.
Turn broiler to high. Eat two of the fresh oysters raw. Place 10 remaining oysters and shells on a broiler pan and top liberally with parmesan. Spoon contents of pan onto oysters. Place under broiler for 2 minutes. Remove from broiler and top each oyster with slices of Mangalitsa pork belly and return under the broiler. Continue cooking until pork slices are crisp and edges of oysters begin to curl, 5-8 minutes depending on oyster size.
Remove to a plate and garnish with remaining chives. Serve.
___________
Browse More:
Oyster Recipes & Techniques
Bacon Recipes
Pork Recipes