Mackerel Salad with Celery, Almonds, Lemon & Smoke
Makes 4 Tapas Servings
WINE PAIRING
Albarino
This light but satisfying salad is very simple – it lets the quality of the ingredients do all the talking for you.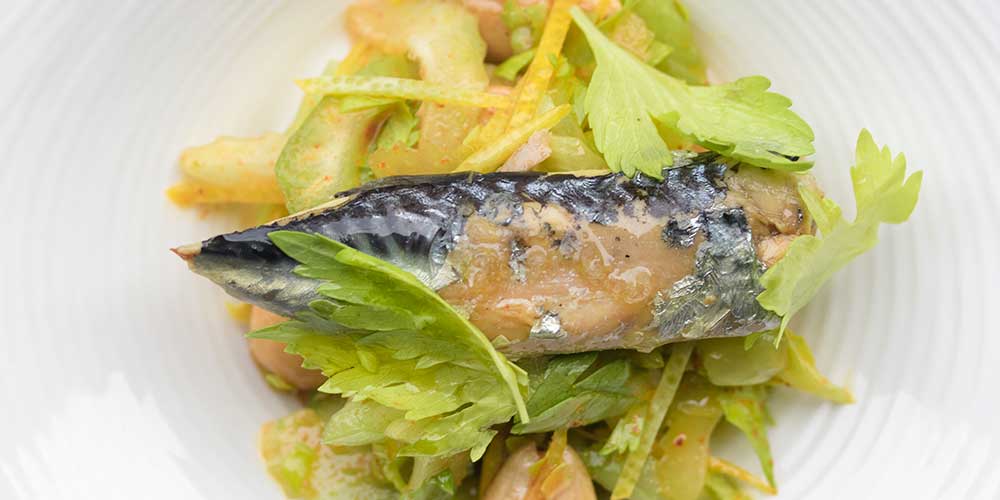 INGREDIENTS
3 Inner Celery Ribs with Leaves

4 large strips Lemon Peel, julienned (cut into very fine slivers)

Juice of ½ Lemon

½ tsp Sweet Smoked Paprika

1 tbsp First Day Arbequina EVOO + extra to finish

1 tin Jose Gourmet Small Mackerel in Olive Oi

Alder Smoked Alaskan Flake Salt
DIRECTIONS
1
Remove & reserve the celery leaves. Thinly slice the celery on a bias.
2
Put the celery slices in a bowl with most of the lemon peel. Squeeze in the lemon juice & gently toss.
3
Add the smoked paprika, marcona almonds and one tablespoon of the olive oil. Toss to combine.
4
Put the salad on a platter or on small plates. Top with portions of the mackerel. Top the mackerel with a light sprinkle of the smoked salt.
5
Drizzle more of the arbequina olive oil over the top to finish.