Mackerel Crudo with Grapefruit, Blood Orange, Avocado, Olives and Chile
Makes 6 Servings
DRINK PAIRING
Champagne or Muscadet
Think of crudo as an Italian version of sashimi. This recipe is quick, simple, and is all about showing off the quality of this firm fleshed, tasty fish. We've left the skin on here for more texture, but you could trim the skin if that is your preference.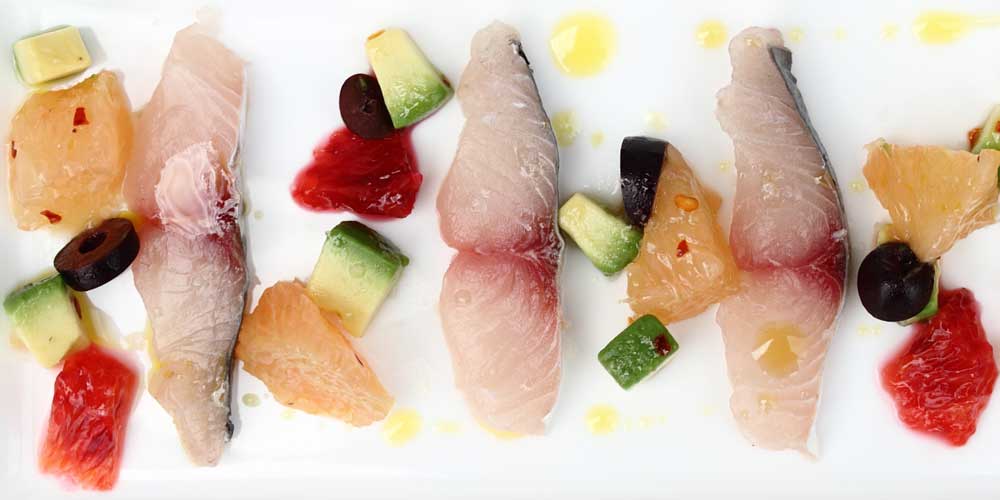 INGREDIENTS
18oz Spanish Mackerel Fillets, skin-on

1 Haas Avocado

1/2 of a Grapefruit

1 tsp Chile Flakes (or to taste)

1/4 cup Kalamata Olives, sliced

Extra Virgin Olive Oil
DIRECTIONS
1
Cut the grapefruit and blood orange into supremes (how to cut supremes). Cut the supremes, and avocado into small bite sized portions.
2
Mix them with the olives, chile flakes, and a little bit of the best extra virgin olive oil you can get your hands on.
3
Slice mackerel thinly (roughly 1/4" thick).
4
Lay the raw mackerel slices out on a plate and decoratively sprinkle the avocado, citrus fruit, and olives around them.