Lox on Homemade Caraway & Dill Bread
Makes 20 Servings
DRINK PAIRINGS
Bloody Mary's, Coffee, or Mimosas
Tired of bagels and cream cheese? Here's a different way to serve lox. Light, fluffy caraway & dill bread "buns" with bright pickled onions, crème fraiche, cucumber and pea shoots.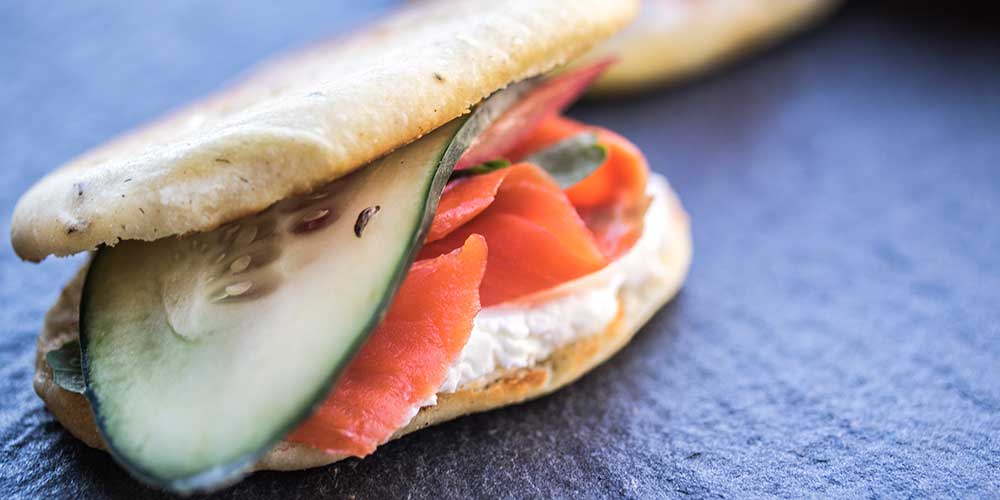 INGREDIENTS
20oz Lox (1oz per sandwich – we used Sockeye Lox)

2 ½ cups Crème Fraiche (2 tbsp per sandwich)

Pea Shoots

1 Cucumber, thinly sliced on the bias
Bread:

2 cups All Purpose Flour, plus up to ½ cup extra for kneading

1 tsp Kosher Salt

1 tsp Dill Pollen

½ tsp Caraway Seeds

½ tsp Freshly Ground Black Pepper

1 package Active Dry Yeast

1 cup Warm Water

1/3 cup Fine Extra Virgin Olive Oil
Pickled Onions:

¼ Red Onion, core removed

¼ Red Onion, core removed

Salt
DIRECTIONS
1
Stir the yeast into the warm water and let it sit until it starts to produce bubbles.
2
Combine the all-purpose flour with the kosher salt, dill pollen, black pepper and caraway seeds.
3
Add the yeast/water mixture and olive oil to the bread flour mixture. Stir to combine.
4
Turn the dough out onto a floured cutting board. Sprinkle it with some additional flour so it won't stick, and knead (you can also do this in a stand mixture for 10 minutes with a paddle or hook attachment). Continue to add flour as needed if the dough becomes too sticky.
The dough is ready when it has a soft, but not sticky, texture and springs back when lightly pressed.
5
Lightly coat the dough with oil and put it in a covered bowl in a warm place to rise.
6
Preheat your oven to 375°
7
While the dough is rising, thinly slice the onion into half-moons. Place the slices in a small bowl and cover them with red wine vinegar and a little salt.
8
When the dough has doubled in size, turn it out onto an oiled cutting board and roll it out into a ¼" thick sheet. Use a biscuit cutter to cut out small rounds & place them on parchment paper on a baking sheet.
9
Brush each round with olive oil. Sprinkle each round with a small amount of sea salt.
10
Bake the bread rounds in the oven for ten minutes. Check the bread and continue to bake until it is golden brown (about another 5 minutes).
11
Slice the rounds in half and toast them.
12
Top each round with some crème fraiche, cucumber slices, pea shoots, pickled onion and lox.