Seared Lobster with Foie Gras Smashed Potatoes
Makes 5 Servings
WINE PAIRING
White Burgundy – Premier Cru
Luxury layered on top of luxury. A truly decadent, rich dish.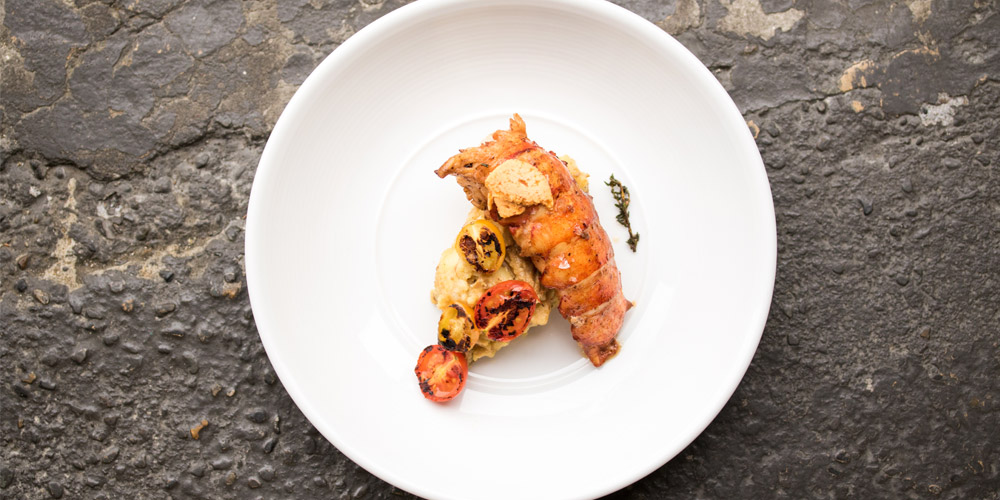 INGREDIENTS
1lb Fingerling Potatoes, halved

5 Cherry Tomatoes, halved

¼ cup Foie Gras (leftover bits, A-C grades fine)

2 sprigs of Fresh Thyme

¼ cup Heavy Cream

Salt
DIRECTIONS
1
Boil the fingerling potatoes in heavily salted water until tender.
2
Char the tomatoes in a dry cast iron skillet, cut side down, just until the cut side is blackened.
3
Remove the tomatoes from the skillet and add the foie gras. Once the fat starts to render out, add the thyme. Continue to cook until all the foie has melted.
4
Add a tablespoon of tomato chile butter to the pan, and once it melts add the lobster.
5
Cook the lobster tails, outside-down, until the outsides have firmed and turned a nice red color.
6
Flip the lobster tails and reduce the heat to low. Continue to cook the lobster, basting them with the fat. Sprinkle them with salt.
7
Remove the tails when they're firm, preferably slightly before they're fully cooked (they'll continue to cook from their residual heat). Put them on a clean plate to rest.
8
Once the potatoes are tender, move them to the remaining fat in the skillet, cut-side down. Cook over high heat until the cut sides caramelize.
9
Turn the potatoes & remove the thyme from the pan. Take a potato masher and mash the potatoes into the surface of the skillet.
11
Add a teaspoon of salt and the cream. Continue to mash the potatoes. Add two more tablespoons of the chile tomato butter to the pan and continue to mash.
12
Taste the potatoes & add additional salt if necessary.
13
Mound the potatoes in bowls, topping each mound with a lobster tail. Baste the tails with any juices that have collected on the plate where the lobster was resting.
14
Garnish the each plate with charred tomatoes, a thin disk of tomato-chile butter, and a few flakes of finishing salt. Serve.