Lobster & Crab Ravioli w/ Soy "Caramel" Sauce
Makes 4 Servings
WINE PAIRING
Riesling Wine, especially one from Alsace
East meets West in this unusual (and tasty) pasta dish. Sweet crab & lobster pasta served with a gingery "caramel" sauce.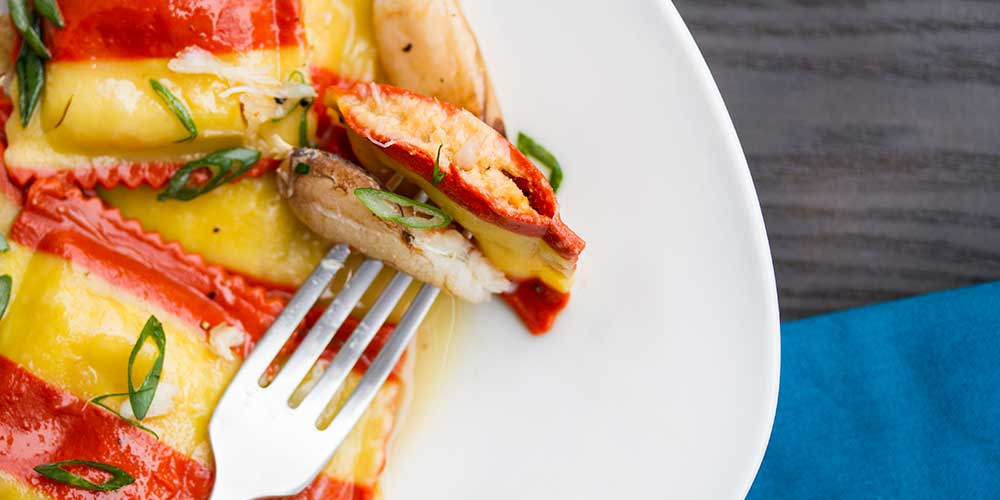 INGREDIENTS
18oz Lobster & Crab Ravioli

2 tbsp White Soy Sauce

¼ cup Sake

3 tbsp Mirin

1 tsp Granulated Sugar

1 tbsp Lemon Juice

1 tsp Grated Ginger

3 tbsp Unsalted Butter, cut into three pats

¼ cup Cooked Crab Meat

1 tbsp Fresh Scallions, sliced on the bias

Black Pepper
DIRECTIONS
1
Bring a large pot of salted water to a boil.
2
In a small saucepan combine the sake, mirin, ginger, white soy sauce, lemon juice, and sugar. Bring the mixture to a boil and simmer to reduce it down to 3 tbsp in volume.
3
While the sauce is reducing, cook the ravioli in the boiling water.
4
Once the sauce has reduced, turn the heat down to low and slowly whisk in the butter, one pat at a time, adding the next pat as each is incorporated.
5
Add the crab meat and scallions to the sauce and gently heat just to warm the crab meat through. Add a few grinds of black pepper.
6
Toss the cooked ravioli in the sauce. Serve.