Tuxedo Lentils w/ Kabocha Squash
This hearty, satisfying lentil recipe is creamy, savory, and just barely spicy with a slightly chewy consistency. Serve it as a nutritious and very delicious side dish or vegetarian entrée.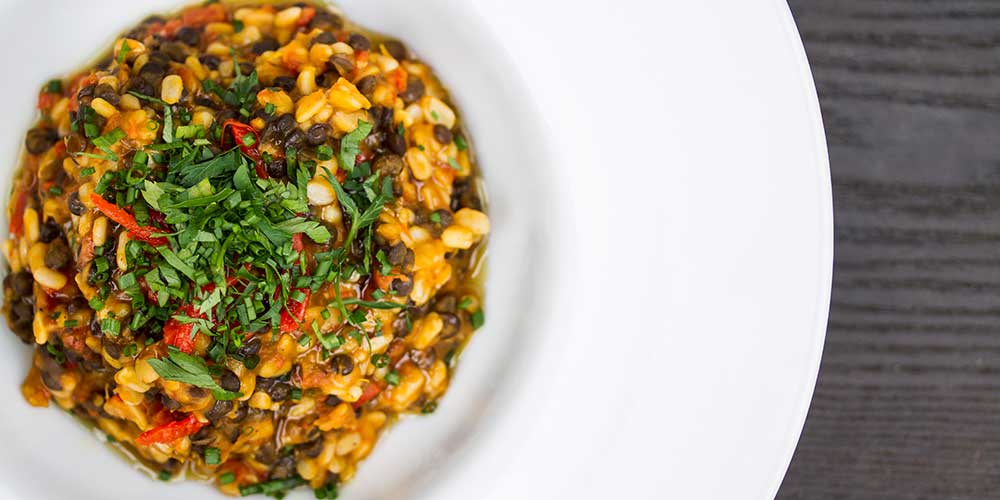 .
INGREDIENTS
Kabocha Puree:

½ large Kabocha Squash

1 tsp Smoked Paprika

1 tsp Light Brown Sugar

1 tsp Salt

Canola Oil
Garnish:

Additional Minced Spicy Peppadews

Minced Fresh Chives

Minced Fresh Flat Leaf Parsley

Butternut Squash Seed Oil
DIRECTIONS
1a
Preheat your oven to 400 degrees
1b
Remove the seeds from the kabocha. Oil a small baking dish with canola oil. Put the kabocha in the dish, cut-side down, and roast in the oven until tender (approx. 50 minutes).
1c
Remove the kabocha from the oven, scoop the flesh from it and puree it in a food processor.
1d
Combine 1 cup of kabocha puree with the paprika, brown sugar, and ½ tsp salt.
The rest of the kabocha puree can be used in other recipes…it's delicious in soup!
2
Put the beluga lentils and the ivory lentils in separate pots, with 3 cups of vegetable stock for the ivory lentils and six cups for the belugas. Put the pots on the stove and bring the liquid to a simmer. Simmer the lentils until they are 95% of the way cooked (ivory lentils should still have a slight bite to them…cooking them until completely tender will cause them to disintegrate).
3
Add a tbsp. of salt to each pot, then let the lentils cool in their cooking liquid until you need them
4
Drain any remaining liquid off of the lentils. Put the beluga lentils in a frying pan with the cup of kabocha puree, ½ tsp of butter, the minced peppadews and tablespoon of veggie stock. Cook over medium heat, stirring occasionally.
5
Taste & add salt as necessary. Cook until most of the liquid has evaporated.
6
Stir in the ivory lentils, the chopped thyme, and black pepper.
7
Put the lentils in bowls on plates as a side, finished with additional peppadews, minced chives & parsley, plus a few drops of butternut squash seed oil.