Many traditional east-coast stuffied clam recipes (aka "stuffie" recipes) involve heavier ingredients like bacon and larger quahog clams (chowders or cherrystones) that have been finely chopped or ground before being returned to their shells to bake. This recipe uses younger, more tender clams and a garlic-free pesto for a lighter yet still delightful result that lets the clams' sweet flavor shine through.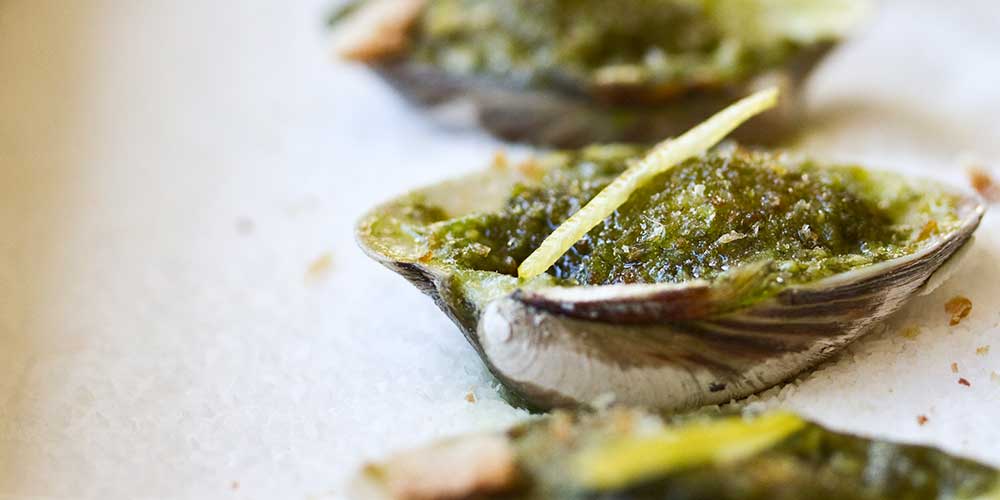 DIRECTIONS
1
Shuck the clams and leave them on the half shell with their liquor (juice). (
How to Shuck Clams
)
3
Make a bed of kosher salt in a shallow baking pan (enough to hold the clams securely upright) and lay in the open clams. Leave a little room around each clam.

4
Preheat your oven to 350 degrees.
5
In a blender combine the pine nuts, basil leaves, parsley, ¼ cup of olive oil and pecorino cheese. Drizzle in additional olive oil as needed until a smooth emulsion is formed. Taste for seasoning & add salt & lemon juice to taste. Blend again to combine.

6
Top each clam with a layer of pesto, just enough to cover the meat. Then top the pesto with a layer of breadcrumbs.

7
Bake until the surface of the clams is bubbling.
8
Top with lemon zest (cut into a thin strip or microplane grated). Serve.