Lemon-Garlic Shrimp Pasta Sauce
Makes 4 Appetizer Servings
We created this very simple, very satisfying sauce to pair with lemon & peppercorn linguini, but you could serve it over plain linguini, spaghetti, etc.
It's very good served hot, but also delicious cold and would make a great light meal served chilled in the summer.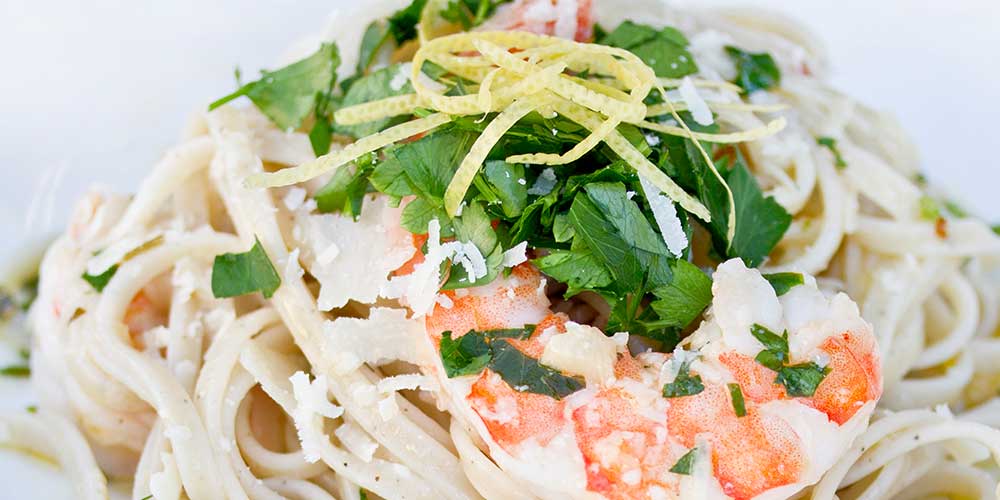 INGREDIENTS
¾ lb Large Shrimp, peeled & deveined

1 tbsp Minced Garlic

1 tbsp Minced Fresh Italian Parsley + Extra for Garnish

2 tbsp Olive Oil

¼ tsp Red Chile Flakes

3 tbsp White Wine

Juice of ½ Lemon

Salt & Pepper

Pasta of Choice
DIRECTIONS
1
Sauté
the garlic in the olive oil until it just starts to brown.
2
Add the shrimp, parsley, pepper flakes, and salt & pepper. Sauté the shrimp until they have almost cooked through.
3
Add the white wine & lemon juice. Cook briefly to reduce.
4
Add a drizzle of EV olive oil.
5
Toss the sauce with cooked pasta. Serve hot or cold topped with more minced parsley & parmesan cheese.