Krystina of Basil & Wine guest posts below with an elegant spelt biscotti recipe (easily modifyable to use wheat flour).  Here's Krystina:
————–
Recently, Marx Foods offered to send me three samples of their gourmet food items to formulate a recipe. The trick? It had to include all three ingredients. I went fairly safe, choosing ingredients that I knew worked well together, but I had never worked with them so it was an adventure. I chose truffle honey, vanilla beans, and lavender blossoms.
They sat on my counter for a while because I couldn't narrow down a recipe. Cupcakes? I questioned my buttercream skills. Tea cookies? I still have a dozen sugar cookies in the freezer. Chocolate bark? Maybe next time. I finally settled on biscotti.
I love biscotti, which is no surprise because as you all know, I love cookies. Biscotti means "twice baked" in Italian and are dry cookies that are served with coffee, tea, and more typically, grappa. They're pretty easy to make, keep for a long time, and are healthy to boot!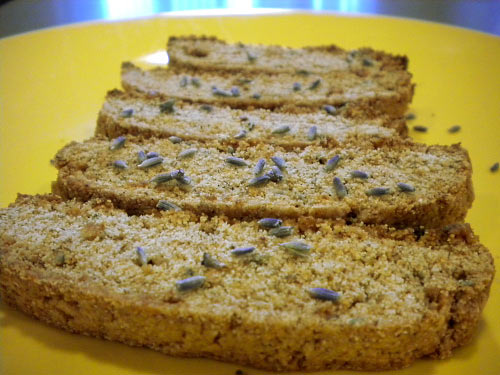 Lavender blossom honeyed biscotti
Ingredients
– 1/2 cup white spelt flour (or AP flour)
– 1/2 cup sprouted spelt flour (or whole wheat pastry, or all AP)
– 1 tsp baking powder
– 1/4 cup organic cane sugar
– 1 tbsp lavender blossoms
– 1/8 tsp salt
– 1 flax egg (1tbsp flax, 3tbsp water)
– 1 tbsp Earth Balance
– 1 vanilla bean, cut in the middle and black seeds scraped
– 3 tbsp honey
Directions
– The night before, add lavender to sugar and store in a container in a dark space overnight.
– Preheat oven to 350.
– Combine dry ingredients, along with lavender sugar, in a large bowl. Cut in Earth Balance until mixture looks crumbly.
– In another bowl, combine wet ingredients. Add wet to dry, mixing just enough for the dough to come together.
– Place the dough on a parchment or foil lined baking sheet. Form into a log, about 9 inches long by 2 inches wide. Bake for 20-25 minutes, or until slightly golden and firm. Allow to cool completely.
– Turn down heat to 300.
– Using a serrated knife, slice log into 1/2″ slices. Lay slices on their side and bake for 10 minutes. Flip and bake for an additional 10 minutes. Allow to cool and store in an airtight container for up to 2 weeks.
Makes 12-14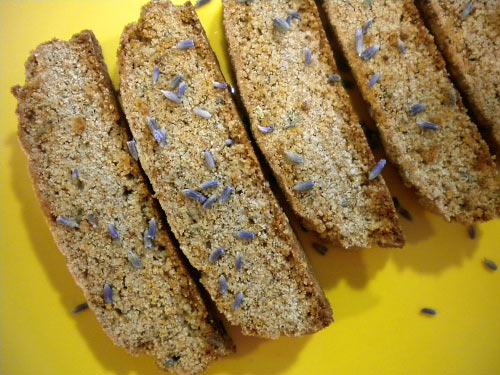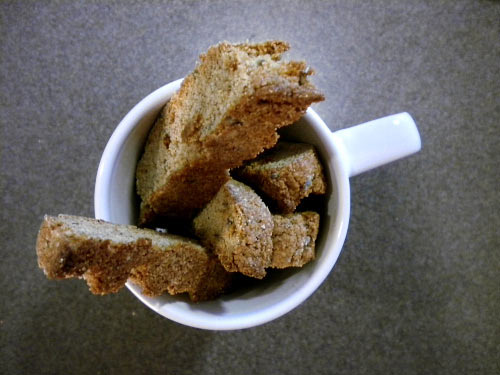 These were just so, so lovely. I was worried that the lavender would be overpowering, but it added such a dainty floral flavor that complemented the sweetness of the honey beautifully. Not to mention that my kitchen smelled amazing all afternoon.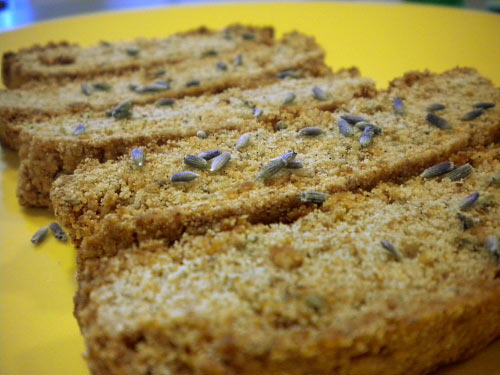 Don't have lavender or vanilla beans? No sweat! Add almond extract and almonds for a more "traditional" biscotti, chocolate chips and instant espresso for a chocolate biscotti, or orange zest and dried cranberries for an autumn biscotti. The possibilities are endless!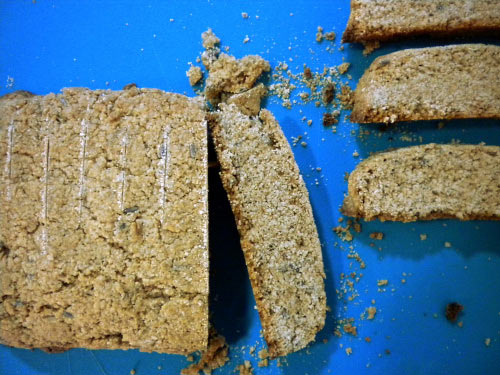 Note: The best part of biscotti making is eating the crumbs that fall off while you cut them.
Thanks Marx Foods!

___________
Browse More:
Cake, Cookie & Pie Recipes
All Dessert Recipes
Vanilla Recipes
Lavender Recipes
Honey Recipes