Lamb Loins w/ Indian-Spiced Yogurt & Apricot Sauce
Makes 4 Servings
WINE PAIRING
Garnacha (Grenache from Spain)
This Indian-cuisine-inspired lamb loin recipe uses a complex blend of spices, yogurt, vinegar and dried apricots to make a full bodied thick sauce.
We've seared & roasted the loins here. If you prefer, the lamb loin in this recipe can instead be cooked sous vide with pepper, olive oil, and salt at 133°F for 1 hour, then briefly seared over high heat.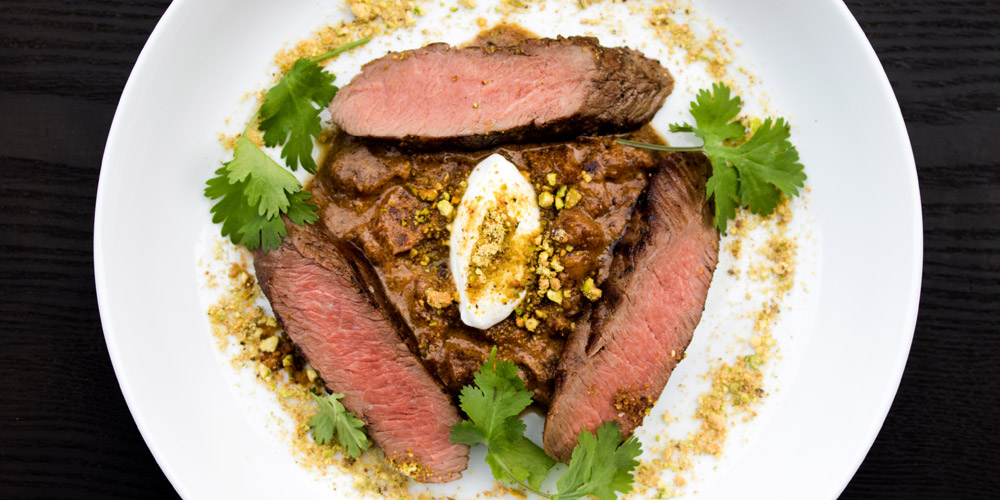 INGREDIENTS
Spice Blend
1 tsp Ground Fenugreek

1 tsp Garam Masala

¼ tsp Yellow Mustard Seed

½ tsp Red Chile Flakes
1 tbsp Unsalted Butter

1 tbsp Vegetable Oil

¼ cup chopped Shallot

10 Dried Apricots, small diced

¼ cup Red Wine Vinegar

1 tbsp Honey

½ cup Full Fat Yogurt

2 cups Low Sodium Beef Stock
Garnishes

½ cup Full Fat Yogurt

¼ cup Toasted Pistachios, ground to a chunky powder

Fresh Cilantro
DIRECTIONS
1
Preheat your oven to 400°F.
2
Stir together all the spice blend ingredients.
3
Season the lamb loins with salt & pepper. Heat some olive oil in an oven-safe frying pan or skillet. Add the lamb loins & sear them on all sides until they brown.
4
Move the pan to the oven and roast until the loins reach your preferred doneness (we recommend 133°F for Medium Rare).
5
Remove the lamb loins from the pan to a clean plate. Loosely cover them with foil & let them rest for ten minutes.
6
Melt the butter in a large frying pan along with the vegetable oil. Add the shallot & saute until it has shrunk.
7
Stir in the apricot & spice blend. Cook for 30-60 seconds, until the spices become aromatic.
8
Stir in the vinegar & honey. Bring the liquid to a simmer & cook until the vinegar reduces by half.
9
Whisk a ½ cup of the yogurt into the beef stock, then pour it into the pan with the apricots & shallot. Bring the stock to a simmer, and cook until it reduces in volume by half.
10
Taste the sauce & add salt if necessary.
11
Slice the lamb loins into medallions & serve them atop the curry sauce, garnished with yogurt, pistachio powder, and cilantro sprigs.