Braised Lamb Shanks with Merguez Sausage Beans
Rich, falling off the bone tender braised lamb set atop a "cassoulet" of flageolet beans and merguez sausages. An herb salad counterbalances the dishes richness with bright citrus and clean flavors of parsley, cilantro & mint.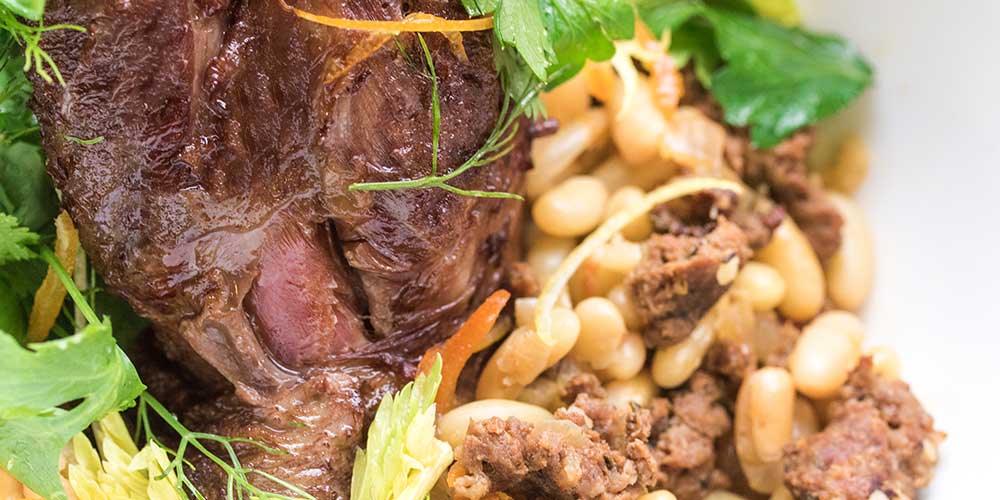 INGREDIENTS
Braising Liquid:

1 Orange

1 Onion

1 Carrot

2 Stalks of Celery

1 Bottle of Red Wine

4 cups Lamb Stock or Beef Stock

2 sprigs of Fresh Rosemary

2 sprigs of Fresh Thyme

2 sprigs of Fresh Sage
Merguez "Cassoulet":
2 Merguez Sausages, casings removed

1 Onion, small diced

2 cups Dried Flageolet Beans, soaked overnight

1 Preserved Lemon, pith removed & remainder finely diced

6 cups of Lamb Stock or Beef Stock
Herb Salad Garnish:

1 Bunch Parsley

1 Bunch Cilantro

1 Bunch Mint

1 Shallot

1 tbsp high quality olive oil

1 tsp lemon juice
(Any other fine herbs, fennel fronds, dill, etc.)
DIRECTIONS
1
Preheat your oven to 300°F.
2
Using an oiled, large, high-sided pan over high heat, sear the lamb shanks on all sides until they develop a browned crust. Remove from the shanks from the pan and reserve them.
3
Cut the orange, onion, carrot and celery in half and caramelize them in the same pan.
4
Add the rosemary, thyme & sage.
5
Deglaze the pan with the red wine and four cups of stock, then place the shanks back in the pan and bring the liquid to a boil.
6
Cover the pan and move it to the oven to braise for 2 hours. Check the shank meat for tenderness with a fork. It should pull away from the bone with very little effort.
7
While the lamb is braising, crumble the merguez sausage into a heavy bottomed pan and cook over medium heat until the fat has been rendered and the meat is browned.
8
Add the small diced onion and
sweat
it until it turns translucent.
9
Add the soaked beans and finely diced preserved lime. Cover them with the remaining six cups of stock and bring it to a boil.
10
Reduce the heat to a simmer and cook until the beans are tender (roughly 20-25 minutes).
11
Remove all stems from the herbs for the salad. Finely mince the shallot. Toss the herb leaves and shallot with the olive oil and lemon juice.
12
Remove the shanks from the braising liquid & serve them atop servings of the cassoulet beans, garnished with the herb salad.