Mustard & Parsley Breaded Lamb Loins with Colcannon
Makes 4 Servings
WINE PAIRING
Left Bank Bordeaux (Cabernet Sauvignon based blend from France)
Colcannon is an Irish variation on mashed potatoes that adds wilted cabbage and leeks. It's really, really tasty and pairs extremely well with lamb.
We've seared & roasted the loins here. If you prefer, the lamb loin in this recipe can instead be cooked sous vide with pepper, olive oil, and mustard at 133°F for 1 hour, then rubbed with additional mustard, rolled in the panko & parsley mixture & briefly seared over high heat.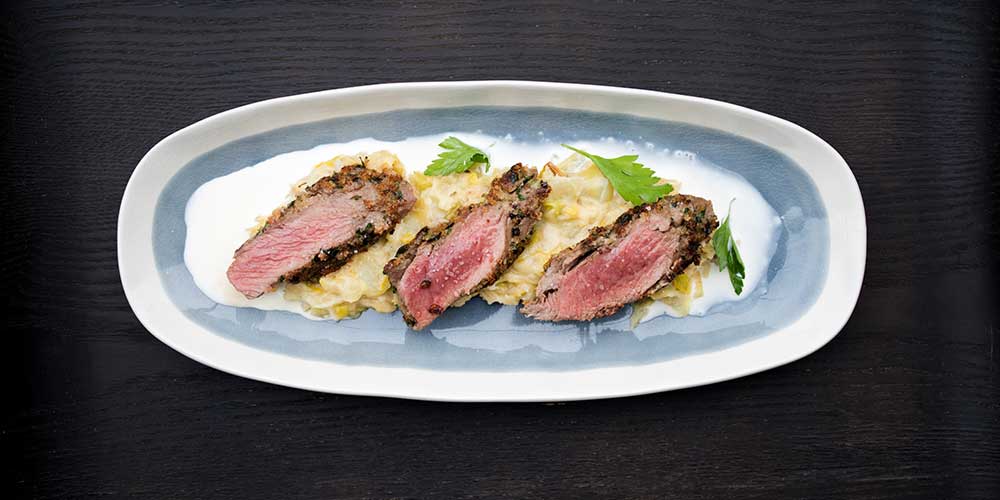 INGREDIENTS
Lamb Loins:
2 tsp Dijon Mustard
Ground Black Pepper
¼ cup Minced Flat Leaf Parsley
¼ cup Panko Bread Crumbs
Colcannon:
1 1/2lbs Yukon Gold Potatoes, halved but not peeled
1 tbsp + 1 tsp Kosher Salt, plus extra to taste
¼ cup Unsalted Butter
2 medium Leeks, ¼" sliced (approx. 1 quart)
½ small Green Cabbage, large diced (approx. 1 quart)
¼ tsp Caraway Seed
¼ cup Dry White Wine
1 cup of Water
4 tbsp Unsalted Butter
1 cup Heavy Cream
Garnish:
Additional Heavy Cream
Flat Leaf Parsley Leaves
DIRECTIONS
1
Combine the potatoes and the tablespoon of salt in a small pot with water to cover. Bring the water to a boil & cook until the potatoes are tender.
2
While the potatoes are cooking, melt the quarter cup of butter in a large frying pan or skillet. Add the chopped leek and cabbage, along with the teaspoon of salt and caraway seed. Saute this mixture over medium heat until it wilts down (about 10 minutes).
3
Deglaze the pan with the dry white wine, scraping any browned bits off the bottom of the pan. Simmer until the wine evaporates.
4
Add the water, turn the heat down to low, and let it cook for ten minutes.
5
Stir in the butter & heavy cream and continue to cook for five minutes.
6
Drain the water off the potatoes and add them to the pan with the cabbage/leek mixture. Mash them into the vegetables & cream. Taste & add salt as necessary.
1
Preheat your oven to 400°F.
2
Stir together the parsley and panko in a large bowl.
3
Rub the lamb with the mustard & season them with black pepper.
4
Roll the lamb striploin in the parsley & panko mixture until coated.
5
Heat some olive oil in an oven-safe frying pan or skillet. Add the lamb & sear on all sides until the panko browns.
6
Move the pan to the oven and roast until the striploin reaches your preferred doneness (we recommend 133°F for Medium Rare).
7
Remove the lamb striploin from the pan to a clean plate. Loosely cover with foil & let it rest for ten minutes.
1
Reheat the colcannon, if necessary, over medium-low heat in a frying pan.
2
Slice the lamb loins & plate them atop servings of the colcannon.
3
Heat a small amount of additional heavy cream until warm. Drizzle it around the colcannon, and garnish with parsley.
Browse More:
Lamb Recipes
Potato Recipes