Lamb Loin Kebabs with Mint-Tomato Sauce, Feta & Pita
Makes 2 Dinner or 6 Appetizer Servings
WINE PAIRING
Washington State Cabernet Franc
The key to great kebabs is making sure everything on the skewers is cut to the same size and cooks at a similar rate.  Here we've cut lamb loin into chunks, rubbed them with a blend of savory cumin, spicy Aleppo pepper and tangy sumac, then grilled or broiled them until they just start to char.
Pair them with fluffy Greek-style pita, feta cheese, and a creamy yogurt-mint-cucumber-tomato sauce and you're in for a treat!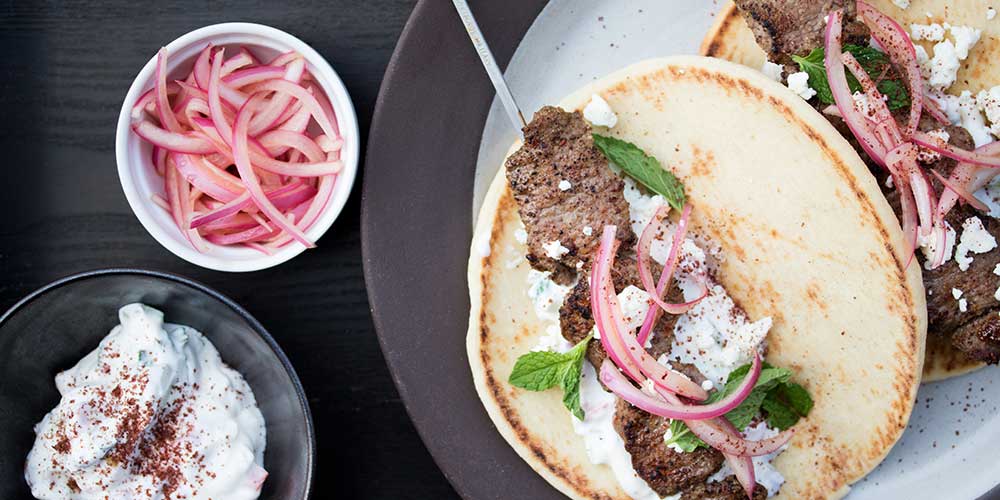 DIRECTIONS
1
Stir together the mint, yogurt, tomatoes, and cucumber.
2
Stir together all the spice blend ingredients.
3
Cut the loin into small cubes.
4
Rub the lamb cubes with the spice blend & thread them onto skewers.
5
Drizzle the meat with the tablespoon of olive oil.
6
Grill or boil the kebabs until Medium Rare.
7
Toast the pita bread on the grill or in an oiled pan.
8
Serve the lamb kebabs with the yogurt sauce, crumbled feta, pickled onions, and mint leaves on the toasted pita bread.