Kurobuta Pork Tomahawk Rack with Ginger Butter & Lightly Charred Broccolini
Makes 4-6 Servings
WINE PAIRING
Condrieu
Kurobuta pork tomahawk racks are bone-in pork racks with extra-long bones for a truly stunning presentation. Here we've paired them with a ginger compound butter and lightly blackened roasted broccolini.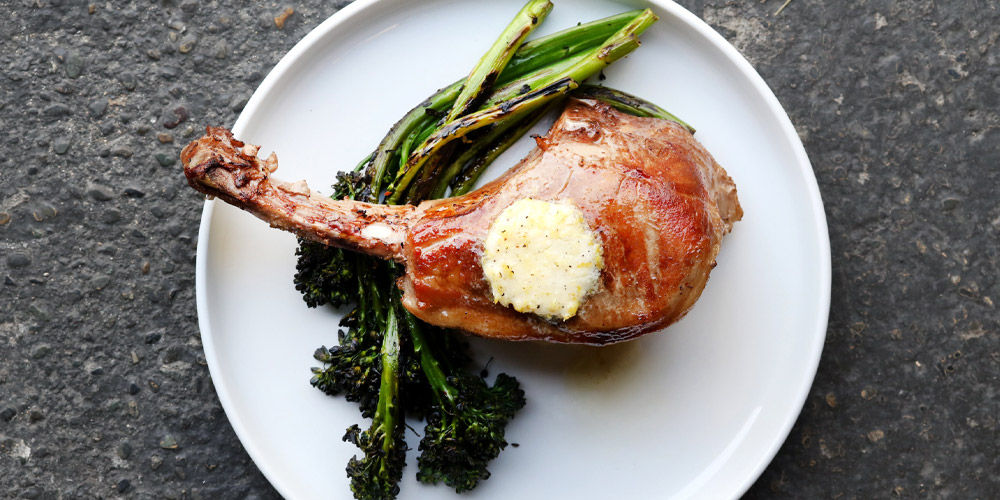 INGREDIENTS
Ginger Butter

1/2lb Unsalted Butter, softened

1 tsp Grated Fresh Ginger

½ tsp Sea Salt

1 tsp Lemon Zest

½ tsp Freshly Cracked Black Pepper

¾" Cube Candied/Crystallized Ginger, minced
Broccolini

2 bunches Broccollini, woody ends removed

3 tbsp Olive Oil

½ tsp Salt

½ tsp Red Chile Flakes
DIRECTIONS
1
Cut the kurobuta pork tomahawk rack into four 2-bone chops. Season them liberally with salt.
2
Optional (But Recommended): Do this the day before you're planning on serving the chops and put them in a deep dish, uncovered, on the bottom shelf of your fridge to air dry.
1
Mash together the ginger butter ingredients to
make a compound butter
. Spread the butter on parchment paper or plastic wrap into a long cylinder. Wrap tightly & chill thoroughly in the fridge.
2
Preheat your oven to 500°F.
1
Mix together the olive oil, salt & chile flakes. Toss the broccolini in this mixture. Put the broccolini on a baking dish with a lip. Pour a ¼ cup of water in the dish. Move the dish to the oven and roast the broccolini until it's just starting to blacken on some of the edges.
2
Reduce the oven temperature to 400°F.
3
Sear the pork chops in a hot, oiled oven-safe cast iron skillet or frying pan, until browned on all sides.
4
Move the pan to the oven and roast the chops until they reach an internal temperature of 140°F.
5
Remove the pork chops from the stove & let them rest, loosely covered with foil, for 10-15 minutes.
6
Serve the pork chops, each topped with a coin slice of the ginger butter, alongside the broccolini.