Double-Cut Kurobuta Pork Chops with Guinness Cream Sauce & Smoky Greens
Makes 4 Servings
WINE PAIRING
Gruner Veltliner (Smaragd level of ripeness)
These thick, double-cut bone in Kurobuta pork chops command the plate, and their flavor delivers on their presentation's promise: luxurious to the extreme. Here they're served with an earthy cream sauce made with Guinness stout, robust pot greens seasoned with smoked salt, and a garnish of golden, crispy fried shallots.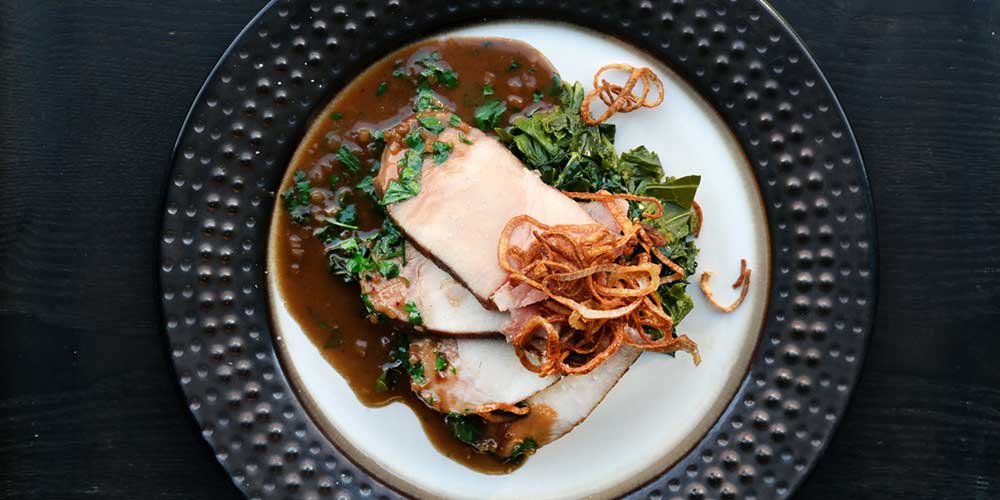 INGREDIENTS
Smoky Greens:

1 bunch Collard Greens

1 bunch Mustard Greens

2 bunches of Kale

1 tbsp Olive Oil

½ tsp Smoked Salt, plus extra to taste

2 tsp Apple Cider Vinegar

1 tsp Honey

½ cup Chicken Stock
Guinness Cream Sauce:

¼ minced Shallots

½ tsp Salt

1 tbsp of Honey

1 cup (8oz) Guinness Stout

½ cup of Heavy Cream

2 tbsp minced Flat Leaf Parsley

Additional Salt to Taste
Crispy Shallots:

2 Shallots, sliced into thin rings

Canola Oil

Salt
DIRECTIONS
1
Preheat your oven to 400°F.
2
Season the pork chops liberally with salt.
3
Cut the stems off of all the greens. Chop the leaves together into bite-sized pieces.
4
Sear the pork chops in a hot, oiled wide cast iron skillet or frying pan until browned on all sides.
5
Move the pan to the oven and roast the chops until they reach an internal temperature of 140°F.
6
While the chops are roasting, cook the smoky greens: Put the olive oil in a small stock pot. Add the greens, honey, apple cider vinegar, chicken stock, and ½ tsp of the smoked salt. Cook over medium heat until the greens are wilted down & tender, then season them to taste with additional smoked salt.
7
Fry the crispy shallots: Preheat the canola oil in a deep, narrow pot to 350°F. Add the shallot rings & fry them just until they brown. Scoop the shallot pieces out of the oil & spread them out on paper towels to drain. Sprinkle them with salt while they're still hot.
8
Remove the pork chops from the stove & let them rest, loosely covered with foil, for 10-15 minutes.
9
While the chops are resting, build the Guinness cream sauce in the pan. Add the shallots, salt & honey to the pan. Sweat the shallot for five minutes, then pour in the Guinness & cook for another five. Pour in the heavy cream. Bring the mixture a simmer, and cook until it thickens enough to coat the back of a spoon.
10
Stir in the chopped parsley. Taste & add additional salt as necessary.
11
Serve the rested pork chops whole or sliced with the smoky greens, drizzled with the cream sauce & garnished with the fried shallots.
Browse More:
Chop Recipes
Pork Recipes