Kurobuta Pork Hot Dogs with Apple-Cabbage Slaw, Caraway-Dill Aioli & Fried Shallots
Makes 8 Servings
WINE PAIRING
Vouvray Sec
Yes, hot dogs can be haute cuisine.  Here we've paired rich Kurobuta pork hot dogs with a caraway-dill aioli (a combination that evokes the deli-meat friendly flavor of classic Jewish rye) with a tangy, crisp apple-cabbage slaw.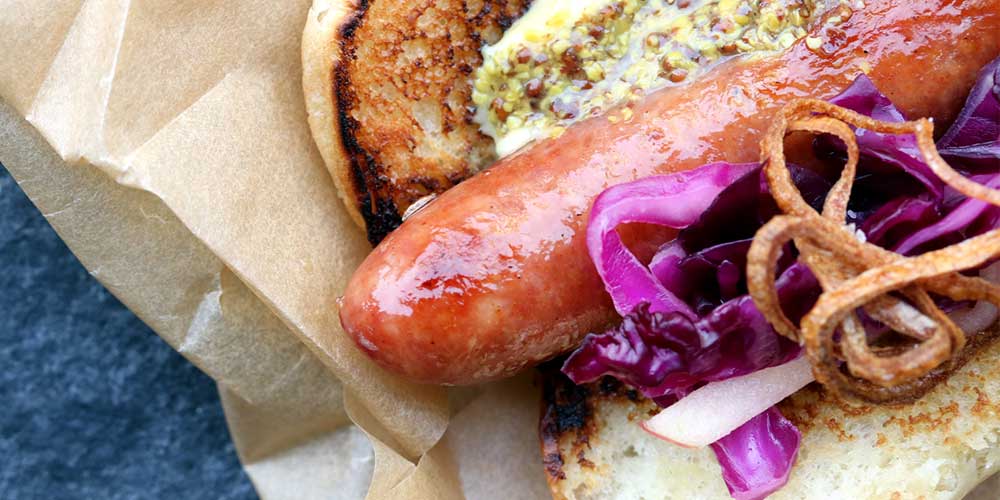 INGREDIENTS
Caraway-Dill Aioli:

¼ tsp Caraway Seeds

1 tbsp minced Fresh Baby Dill

¼ tsp Spicy Dijon Mustard

¼ tsp Salt

2 tsp Lemon Juice

1 Egg Yolk

¾ cup Canola Oil

Optional: 1 tsp Water (if needed to thin mayo)
Apple & Cabbage Slaw:

¼ cup Seasoned Rice Wine Vinegar

1/2 Honeycrisp Apple

1/2 Granny Smith Apple

1/2 Fuji Apple

1 tbsp Apple Cider Vinegar

2 cups Shredded Red Cabbage

2 tsp Salt
Crispy Shallots:

2 Shallots, sliced into thin rings

Canola Oil

Salt
DIRECTIONS
1
Make the Dill & Caraway Mayonnaise:
Toast the caraway seeds in a dry pan until aromatic.
Combine them in a large bowl with the minced dill, lemon juice, mustard, and salt. Whisk in the egg yolk, then continue to whisk while slowly drizzling in the canola oil until a smooth mayo forms.
2
Core & julienne the apples, tossing all the pieces in the rice wine and cider vinegar as you cut them so they don't start to brown.
3
Massage the cabbage with the salt for a minute. Put the cabbage in a small strainer & weigh it down with something heavy (another bowl filled with water, etc).  Let any juices drain out for 20 minutes, or until a quarter cup of water has collected under the strainer.  Taste the cabbage, if it is too salty, briefly rinse it.
4
Fry the Crispy Shallots: Preheat the canola oil in a deep, narrow pot to 350F. Add the shallot rings & fry them just until they brown.  Scoop the shallot pieces out of the oil & spread them out on paper towels to drain.  Sprinkle them with salt while they're still hot.
5
Brush the cut side of the hot dog buns with melted butter. Toast them in a hot pan.
6
Remove the buns from the pan and add the tablespoon of canola oil. Add the hot dogs to the pan and sear them.
7
Toss the cabbage together with the apple sticks & vinegar.
8
Serve the hot dogs on toasted buns with the mayonnaise, shallots, slaw, and mustard.