Cider Glazed Kurobuta Ham w/ Potatoes & Pickled Rhubarb
Makes 4+ Servings (plus leftover ham)
Ham is one of the great entertaining proteins. It's succulent, intensely flavorful, and easy to prepare. This recipe is for a simple glaze over an extraordinary ham with roasted potatoes (or your choice of side) and easy, quick-pickled rhubarb.
This recipe produces leftovers too, for omelets, sandwiches, easy dinners, etc. Is there anything better than leftover ham?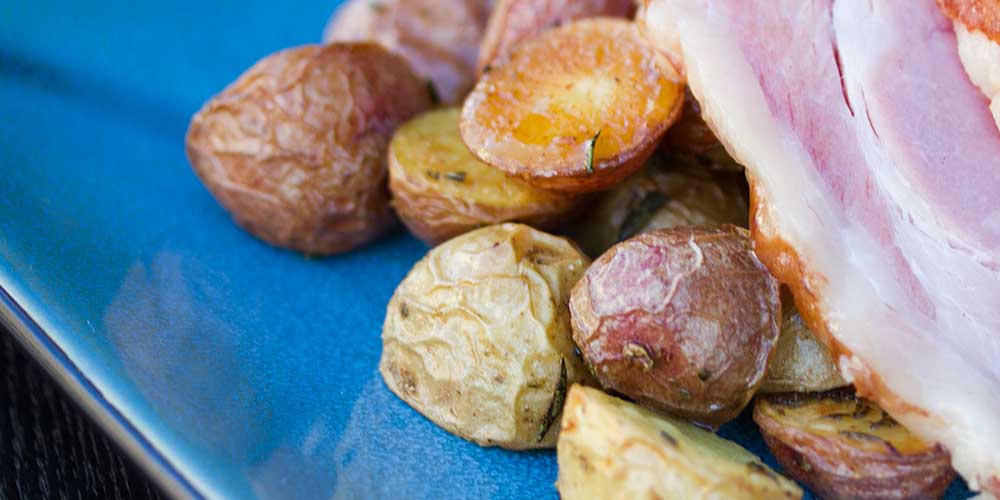 INGREDIENTS
Ham Glaze:

1 bottle Hard Cider (we used Finn River Dry Apricot)

2 tbsp Dijon Mustard

½ cup Kumquat Marmalade

1 cup Red Wine

2 Bay Leaves

1 tbsp Ground Cumin

¼ tsp Ground Cloves

2 cloves of Garlic
Quick-Pickled Rhubarb:

2 Ribs of Rhubarb, thinly sliced on the bias

1 cup Rice Wine Vinegar

¾ cup Sugar

1 tbsp of Salt
Potatoes: (could substitute your starch side dish of choice)

1 lb of Marble Potatoes (could substitute quartered new potatoes)

2 tbsp Unsalted Butter

1 tbsp of Fresh Rosemary, chopped

1 tbsp Kosher Salt
DIRECTIONS
1
Preheat your oven to 350 degrees.
2
Put the ham in a large pot, cut side down, with the glaze ingredients.
3
Roast the ham until cooked through (internal temperature of 160 degrees), periodically removing the pot from the oven and basting it with the glaze.
4
Cut the potatoes in half. Put them in an oven-safe pan with the butter, salt and rosemary. Move the pan to the oven and roast until tender.
5
Combine the rice wine vinegar, sugar and salt for the rhubarb in a small pot. Bring it just to a boil, then pour it over the rhubarb.
6
Thinly slice the ham. Serve it with the potatoes and pickled rhubarb.