Brined Kurobuta Pork Chops with Lentils & an Apple-Cream Sauce
These massive, decadent pork chops are drizzled with lightly sweet, creamy cider sauce with a slight crunch from rehydrated dried apples and a savory touch of Dijon mustard. Add to that the bourbon-honey brine we used and the all-around-awesomeness of Kurobuta pork, and you've got a real winner.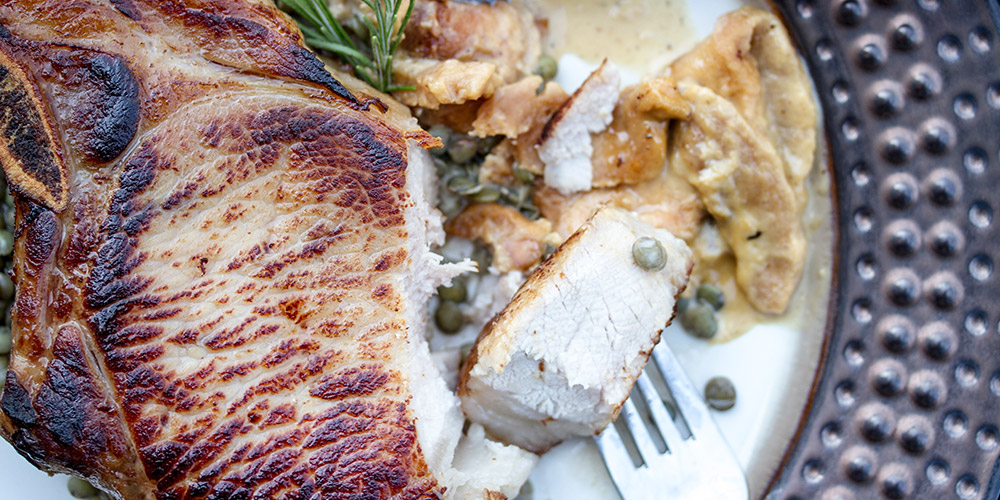 INGREDIENTS
Brine:

¼ cup Bourbon (we used Maker's Mark, but cheaper would be fine)

¼ cup Mesquite Honey

1 cup Water

¼ cup Kosher Salt

1 cup Cold Water
Lentils:
2 cups French Green Lentils

1 clove of Garlic, crushed

Water, Vegetable or Chicken Stock

1 tbsp Kosher Salt
Sauce:

1 cup Hard Cider

½ cup Dried Apple Slices

½ cup Chicken Stock

1 tsp Dijon Mustard

1 cup Heavy Cream
DIRECTIONS
1
Combine the brine ingredients, except the cold water, in a small pot and bring them to a boil.
2
When the brine ingredients have dissolved, remove the pot from the heat and add the cold water.
3
Chill the brine overnight (or stir it over an ice bath) until very cold.
4
Pour the brine over the pork chops and let them brine for four hours in your fridge, turning the chops halfway through.
5
Preheat your oven to 350 degrees.
6
Put the lentils in a pot and cover them by at least an inch with the water or stock. Add the crushed garlic.
7
Bring the liquid to a simmer, cover the pot, and cook until the lentils are almost done. Season them with the salt, remove the pot from the heat, and let them finish cooking with the residual heat.
8
Drain & dry off as much brine from the pork chops as possible. Sear them on both sides in a hot oiled frying pan, then move the frying pan to the oven and roast them to an internal temperature of 145 degrees.
9
Remove the pork chops from the pan to a clean plate to rest.
10
Drain off the excess fat from the pork chop pan. Pour the cider into the pan and add the dried apple. Heat the cider to a simmer.
11
Add the chicken stock, Dijon mustard and heavy cream. Simmer down to a sauce consistency.
12
Serve the pork chops with the lentils and apple sauce (include the dried apples).