Makes 2 Servings
WINE PAIRING
Riesling
Savory, spicy & umami packed, this recipe swaps the traditional chicken pieces for boneless quail breasts.  Delicious!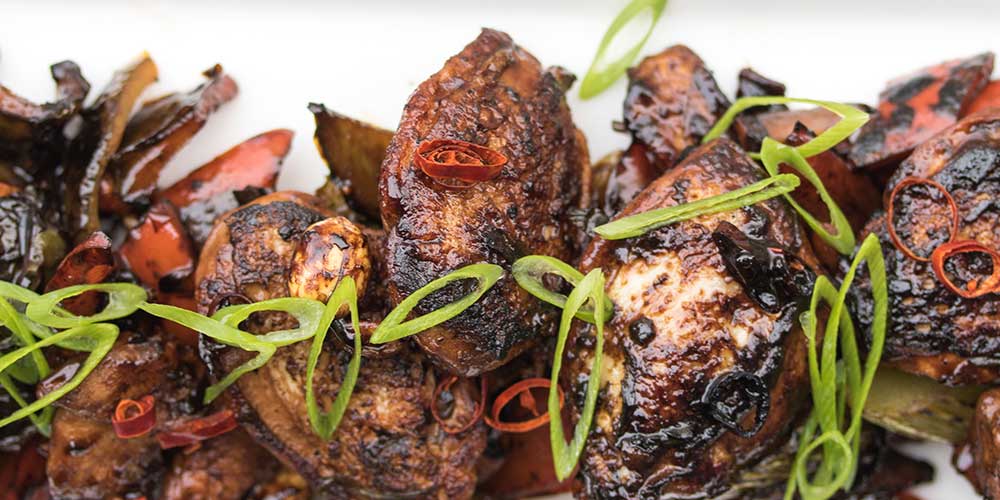 INGREDIENTS
2 tbsp Vegetable or Canola Oil

1 large Red Bell Pepper, ¾" diced

1 large Poblano Chile, ¾" diced

2 stalks Celery, ¾" diced

½ cup Roasted Peanuts

2 tsp minced Black Garlic (around 2 medium cloves)

2 tsp minced Fresh Ginger

1 Scallion, finely minced

8 small Dried Arbol Chilies

2 cups High Heat/Frying Oil
Sauce:

1 tbsp Dark Soy Sauce

1 tbsp Shaoxing Wine

1 tbsp Distilled White Vinegar

¼ cup + 2 tbsp Chicken Stock (lowest sodium available)

1 tbsp Granulated Sugar

1 tsp Roasted Sesame Oil

2 tsp Cornstarch
Marinade:

1 tsp Dark Soy Sauce

½ tsp Granulated Sugar

½ tsp Roasted Sesame Oil

½ tsp Cornstarch

1 tsp Shaoxing Wine

1/2 tsp Kosher Salt

1/4 tsp Ground Black Pepper
DIRECTIONS
1
Cut the tenderloins off of the quail breasts.
2
Combine the quail breasts & tenderloins with the marinade ingredients in a medium bowl & toss to coat. Let marinate for 20 minutes.
3
Combine the remaining soy sauce, wine vinegar, chicken stock, sugar, sesame oil & cornstarch in a small bowl. Whisk together until homogenous.
4
Heat 1 tbsp oil in a wok or cast iron skillet over high heat until smoking.
5
Add the quail breasts in a single layer & cook, without moving them, until mostly cooked through.
6
Remove the quail from the pan to a plate. Clean out the pan & add the remaining 1 tbsp of oil.
7
Add the bell peppers & celery, then stir fry until they're lightly browned. Add the peanuts & toss.
8
Add the ginger, black garlic, scallion & ginger & dried arbol chilies. Continue to stir fry until you can smell them.
9
Add the sauce mixture to the pan. Cook for about 30 seconds, then remove the pan from the heat and stir in the quail breasts and tenderloins.
10
When the quail is warmed through & the tenderloins have cooked from the residual heat, serve.