Loaded-Up Cheese, Kraut & Bacon Spuds
Move over potato skins, there's a new tater king in town! We've cut the richness of the cheese and smoky bacon with sauerkraut for a tasty treat that evokes the classic appetizer without being so heavy.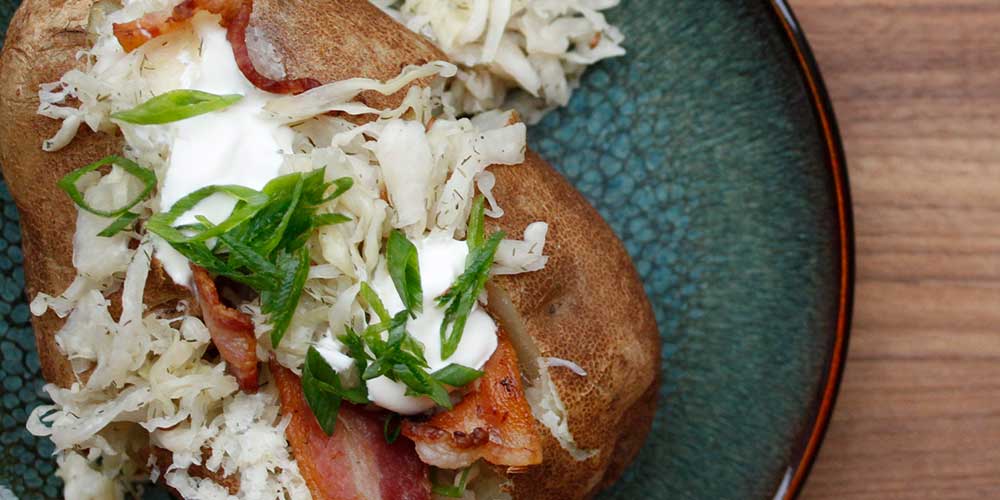 INGREDIENTS
4 large Russet Potatoes

8 slices Berkshire Pork Bacon
½ cup shredded Emmentaler (Swiss) or Gruyere Cheese

4 generous scoops of Dill & Caraway Savory kraut (or any other Midori Farm Kraut flavor)

Salt & pepper

Optional: Sour cream and/or Green Onions
DIRECTIONS
1
Preheat your oven to 350° F.
2
Wash the potatoes and get them baking in the oven while you prep the other ingredients.
3
Check the potatoes after an hour. Continue to cook them until a toothpick or knife tip slides easily through, letting you know that the center is soft and fully cooked.
4
While the potatoes are baking, fry up the 8 slices of Berkshire bacon in a skillet until they're crisp. Drain them on paper towels, and then chop them into 1-1.5" pieces. Not too small! You don't want these looking like some sad store-bought bacon bits – you want big pieces of Berkshire goodness.
5
When the potatoes are tender throughout, pull them from the oven, and split each one wide open. While the steam is still escaping, pile shredded cheese on each potato (if it doesn't melt, you can slide them back into the oven for just a couple minutes), scatter on the bacon pieces, and top with a generous scoop of the kraut flavor you like best.
6
Add sour cream and chives if you'd like, and salt and pepper to taste.