Kobe Beef Skewers & Red Wine Sauce
Makes 16 Small Bites
WINE PAIRING
Whatever red wine you use in the sauce.
K
obe beef makes great appetizer skewers because its beefy, buttery flavor is so intense that even one or two bites can satisfy. Here small skewers are paired with a savory sauce (Pepper Marchand de Vin Sauce) made with red wine and demi-glace balanced with bell peppers and herbs.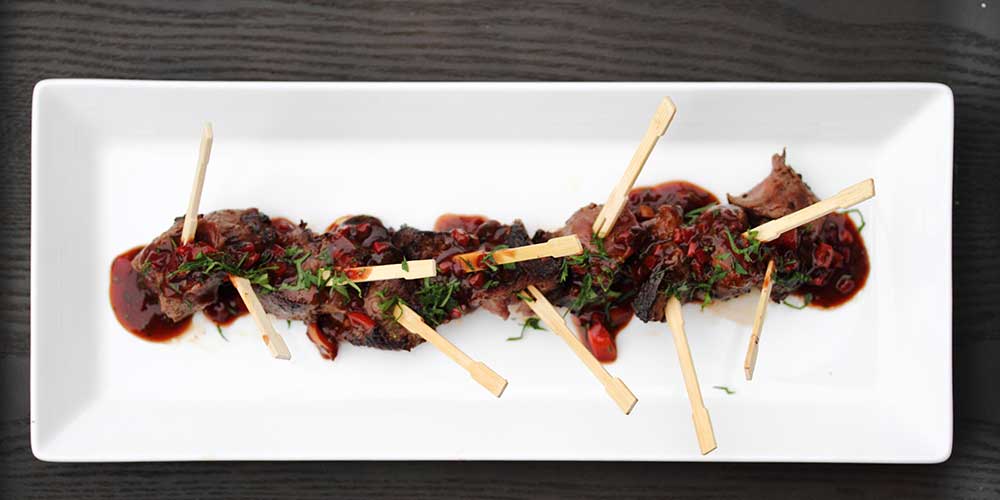 INGREDIENTS
1lb Kobe Beef Kabob Meat or Cubed Steaks

1/2 cup Red Wine

1 tbsp Shallot, finely minced

2 tbsp Red Bell Pepper, small diced

2 tbsp Orange Bell Pepper, small diced

1 tbsp Fresh Thyme, finely chopped

1 tsp Fresh Rosemary, finely chopped

1 1/2 oz Demi Glace Gold

Salt & Pepper

Olive Oil

Finely Minced Flat Leaf Parsley or Microgreens for Garnish
DIRECTIONS
1
Toss the kebab meat with salt, pepper, and oil. Thread onto skewers.
2
Grill, pan roast, sear
, etc the kebabs as you normally would. We seared ours on all sides in a hot cast-iron skillet.
3
In a separate pan, combine the red wine, shallot & peppers. Add the thyme & rosemary, then simmer until about 2 tbsp of liquid remains.
4
Add the demi glace base and 1/3 cup of water to the pan. Continue to cook, stirring to combine.
5
Serve the skewers drizzled with the sauce & garnished with parsley or micro greens.