Jerusalem Artichoke (aka Sunchoke) Soup with Kobe Beef Dumplings
Makes 4 Servings
WINE PAIRING
Pinot Noir from Burgundy or Grenache from Rhone
This is a creamy soup that allows the sweet flavor of sunchokes to take center stage. However, before the cream gets too rich it's cut with the sweet-beefy flavor of the Kobe beef dumplings and an acidic zing from the pickled radishes. The crunch of the fried dumplings provides delightful contrast to the silkiness of the soup.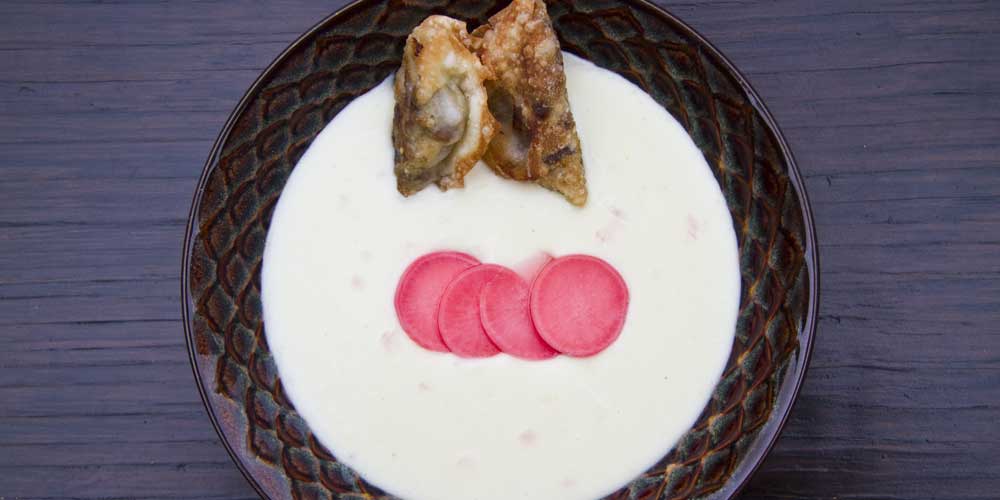 INGREDIENTS
1 1/2lbs Jerusalem Artichokes/Sunchokes, ¼" sliced (could substitute Crescent Fingerling Potatoes for a different flavor)

½ cup Onions, finely chopped

¼ cup Celery, finely chopped

Chicken stock

1 cup Heavy Cream

Salt and Pepper to taste
DIRECTIONS
1
Sweat the onions and the celery until translucent.
2
Add the Jerusalem artichokes and a 50/50 blend of chicken stock and water to just cover.
3
Bring to a simmer, and simmer until the sunchoke slices are tender.
4
Puree the soup with a blender or immersion bender. Strain it through a fine mesh strainer.
5
Stir in the heavy cream, taste for seasoning and add salt and pepper as needed.
6
Keep the soup warm on the stove while you pan fry the dumplings.
7
Garnish each bowl of the soup with two dumplings and some pickled radish disks. Serve.