Kiwiberry Coconut Yogurt Parfait
Fills Two Parfait Flutes
WINE PAIRING
Muscat Beaumes de Venis
Cool, creamy, refreshing & relatively healthy, you're sure to enjoy this light dessert.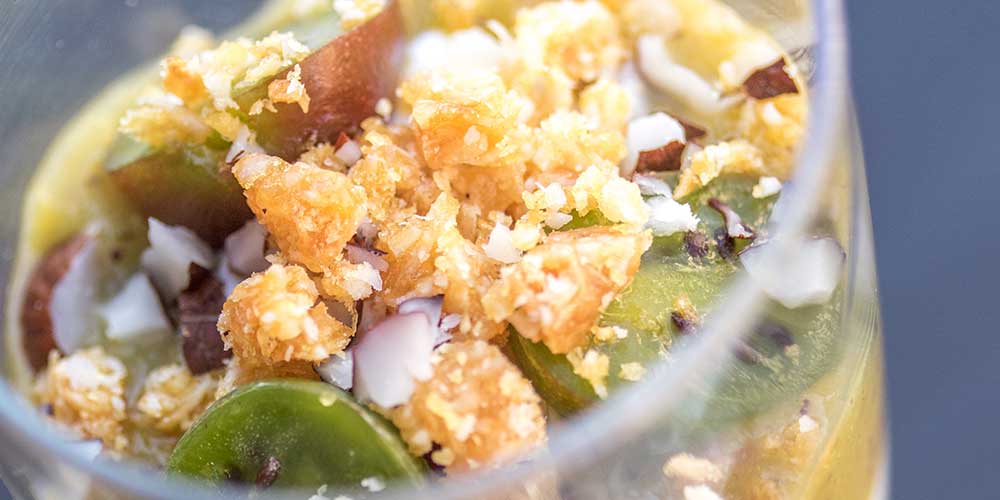 INGREDIENTS
2 tbsp Coconut Brittle, minced

2 tbsp Baby Coconuts, minced

1 cup Full Fat Greek Yogurt

1 tsp Honey (we used Shipwreck Wildflower Honey)

Pinch of Salt
DIRECTIONS
1
Mix the honey and pinch of salt into the Greek yogurt.
2
Combine the kiwiberries & orange in a blender with their pinch of salt. Blend to a smooth puree.
3
Combine the coconut brittle & baby coconut bits.
4
Put 2 tbsp of yogurt in each flute. Top with a tsp of the kiwi puree, then some of the coconut brittle mixture. Top with more yogurt & kiwi puree.
5
Garnish with kiwiberry halves and more of the coconut mixture. Serve.