Natasha from Five Star Foodie is fabulously delicious and creative.  So much so that she makes me want to send her a goodie box of random exotic fruits.  We are honored to feature her here again.  If you don't know Natasha, it's time to go check her out.
————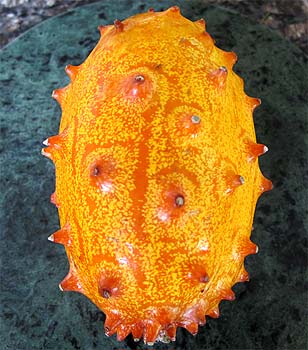 Recently, I discovered a new interesting fruit called Horned melon, or kiwano. It originates in Africa but now also grows in other parts of the world including New Zealand, California, and Chile. It looks like a small oval melon with spines that look like "horns". Inside, there are a lot of seeds covered in green gelatinous substance. Most of the time, the pulp of the fruit is scooped up and eaten by itself. The flavor is somewhat tangy, a little bit sweet, combining hints of lemon, cucumber, banana, and melon.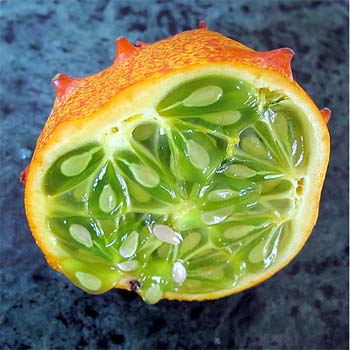 I decided to make a Horned Melon Yogurt Mousse. It was tangy and delicious, a terrific refreshing summery treat!
Ingredients:
1 Kiwano Horned Melon
1 tablespoon lemon juice
1/2 teaspoon agar agar
1/3 cup sugar
1/3 cup nonfat plain Greek yogurt
1 egg white
Directions:
Cut the horned melon in half. Scoop all the pulp out of each half. Wash and reserve the shells. Place in the food processor and blend well. Strain, pushing as much liquid out as possible. Place the horned melon juice in a small pot. Add lemon juice, agar agar, and sugar. Mix well and bring to boil. Simmer until agar agar and sugar is dissolved. Cool.
Meanwhile, beat the egg white to stiff peaks. First fold Greek yogurt into the horned melon mixture and then fold in the egg whites. Chill, covered, for a few hours or overnight, until firm. Serve in the the horned melon shells.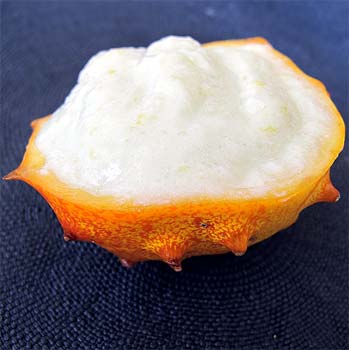 ___________
Browse More:
Fruit Dessert Recipes
All Dessert Recipes
Exotic Fruit Recipes