Alligator Katsu Burgers with Shokupan, Tonkatsu Mayo, Pickled Cabbage & Caramelized Onion
Makes 4 Servings
BEER PAIRING
Pilsner
Alligator burgers are ground from the leg & body meat, so they have a pretty potent mackerel-esque flavor. We've balanced it here with a spicy-tangy katsu-sauce and pickled cabbage. A crispy coating of fried panko breadcrumbs adds satisfying crunch, evoking Japanese fried fish dishes.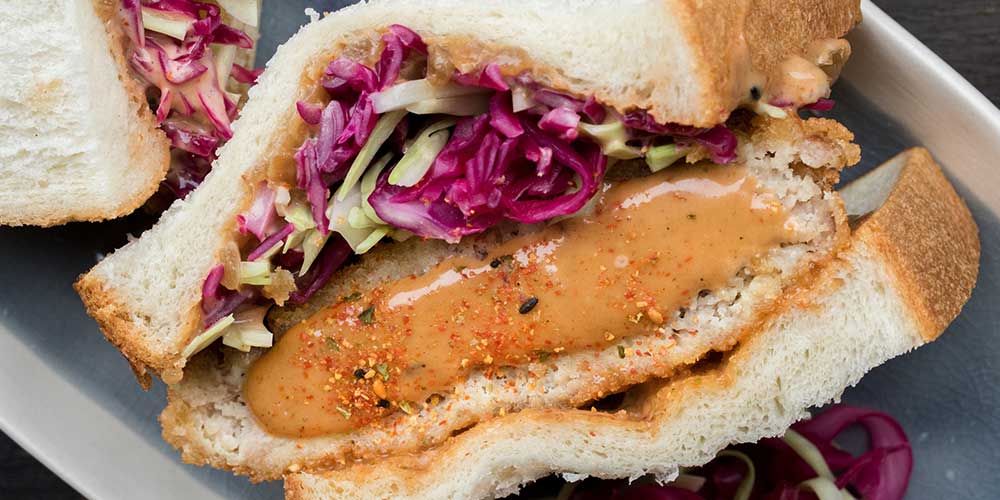 INGREDIENTS
Pickled Cabbage:

4 cups Shredded Purple Cabbage

1 tbsp Kosher Salt

Seasoned Rice Wine Vinegar
Alligator Katsu Patties:

All Purpose Flour

3 Eggs, beaten

Panko Bread Crumbs

Salt
Katsu Mayo:

½ cup Mayonnaise (we used Best Foods)

½ cup Tonkatsu Sauce (we used Bulldog brand)

1 ½ tsp Shitchimi Togarashi (store bought or make your own)

¼ cup finely shredded Green Cabbage

8 Slices Japanese-Style Sandwich Bread (shokupan) (could substitute burger buns or white bread)
DIRECTIONS
1
Massage the salt into the shredded purple cabbage. Put it in a colander over a bowl, with a weighted plate pushing down on the cabbage within the colander. Let it sit for 30 minutes to draw out the cabbage's moisture.
2
Rinse the cabbage & put it in a bowl. Pour rice wine vinegar over the cabbage to cover, and let sit until you're ready to serve the burgers.
3
Dry all surface moisture off of the burger patties.
4
Put the flour (seasoned with some salt), eggs, and panko in separate bowls.
5
Dip each burger in the flour, then the egg, then the panko.
6
Heat the canola oil in a pot to 350°F.
7
Gently lower in the burger patties (we used a spider, but a slotted spoon or metal spatula would work too) & fry them until the panko is golden brown & the patties reach an internal temperature of 155°F.
8
Remove the patties from the oil to a plate covered with paper towels to drain off the oil.
9
Mix together the katsu mayonnaise ingredients. Remove the cabbage from the vinegar.
10
Toast one side of each of the shocopan slices on the grill, in a toaster oven, or in a buttered pan, so they'll be moisture resistant on the inside, but soft on the outside.
11
Serve the katsu burgers on the bread with katsu mayo, cabbage, caramelized onions & the pickled cabbage.