Kangaroo Swedish Meatballs with Gravy
Makes 4+ Servings
WINE PAIRING
California Chardonnay
Kangaroo is a flavorful, healthy meat that also happens to be extremely lean.  That means it's a great choice for recipes that naturally include extra fat & bread to keep moist, like Swedish meatballs!
We've snuck red wine vinegar, red currant jelly, and luxardo maraschino liqueur into the gravy to balance its richness and impart game-meat friendly fruity notes.  The resulting dish has the comforting gravy & smooth texture you love, but with more personality than traditional Swedish meatballs.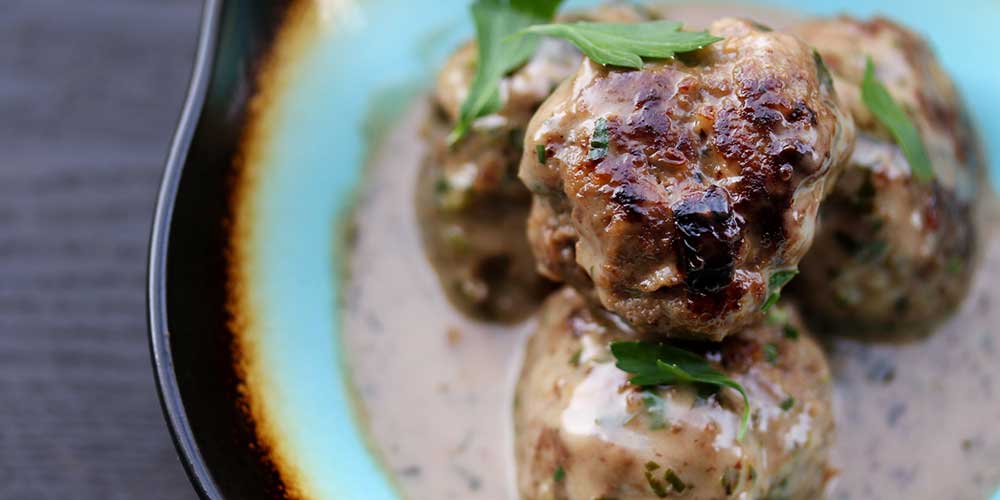 INGREDIENTS
Meatballs:

2 slices White Bread

¼ cup Whole Milk

2 Egg Yolks

1 tbsp Unsalted Butter

½ cup finely chopped Red Onion

2 tbsp Dry White Wine or Vermouth

½ tsp ground Black Pepper

1 tsp Kosher Salt

2 tbsp Mayonnaise (we used Best Foods)

2 tbsp Panko Bread Crumbs
Gravy:

2 tbsp Olive Oil

¼ cup All Purpose Flour

3 cups Low Sodium Beef Stock

1 cup Heavy Cream

2 tsp Luxardo Maraschino Liqueur

1 tsp Red Wine Vinegar

1 tbsp Red Currant Jelly
¼ cup minced Flat Leaf Parsley Leaves
DIRECTIONS
1
Tear the bread slices into pieces & mix them with the milk. Add the egg yolks, salt & black pepper.
2
Melt the butter in a wide frying pan. Add the red onion & saute it until it softens.
3
Deglaze the pan with the white wine/vermouth. Bring the liquid so a simmer and cook until the pan looks dry.
4
Remove the onion from the pan to a separate bowl.
5
Use a stand mixer to beat together the bread/milk/egg mixture, the cooked onion, the kangaroo meat, and the panko.
6
Form the mixture 1 ½" thick meatballs.
7
Coat the bottom of a pan with vegetable oil. Brown the meatballs on all sides in the oil over Medium High heat until they're cooked through.
8
Move the meatballs to a clean plate while you construct the gravy in the pan.
9
Add the two tablespoons of olive oil to the residual fat in the pan. Sprinkle in the flour and stir it into the fat, toasting it for 2 minutes, just until it begins to smell nutty.
10
Whisk in the beef stock. Bring it to a simmer, and cook until it reduces by a quarter.
11
Whisk in the heavy cream, vinegar, and luxardo. Simmer to again reduce the liquid by a quarter.
12
Taste and add salt & pepper if necessary.
13
Whisk in the red currant jelly until it melts into the gravy.
14
Return the meatballs to the pan, toss them with the sauce, and simmer for an additional 5 minutes.
15
Stir in the parsley leaves.