Kangaroo Crepinettes with Wilted Kale & Apple Creme Fraiche Puree
Makes 4 Servings
DRINK PAIRING
Alsatian Riesling or a California Viognier
Because kangaroo meat is so incredibly lean, we've wrapped it in caul fat and also added bacon help keep it moist while also amping up kangaroo's natural smokiness. The result is a dish that features kangaroo meat at its most intense and savory, balanced with a sweet-tangy apple crème-fraiche puree and wilted kale.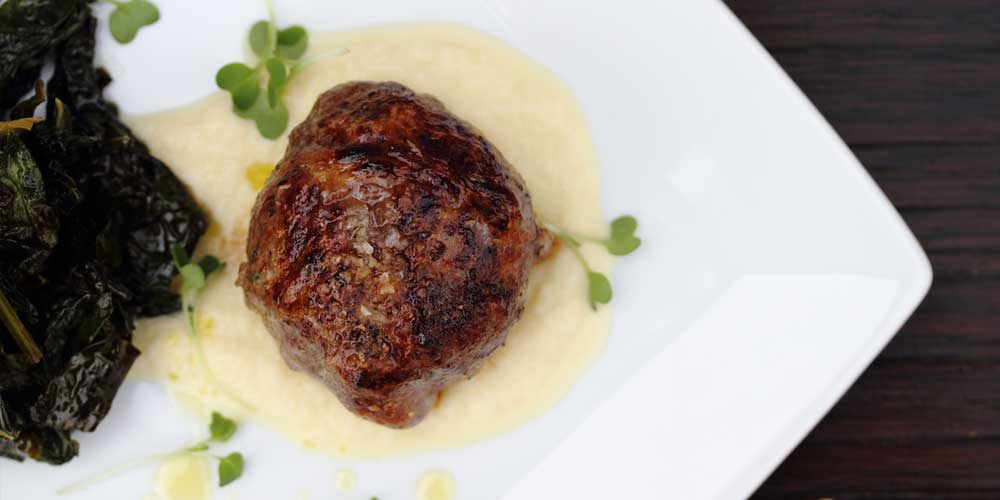 INGREDIENTS
12oz Ground Kangaroo Meat
3oz Bacon, ground or finely minced (we recommend mangalitsa bacon)

3 cups peeled Red Apple, large diced

1 tbsp Fresh Parsley, minced

1 tbsp Fresh Thyme, minced

1 tsp Fresh Marjoram, minced

1 large Shallot, small diced

2 tsp White Vinegar

2 tsp Sea Salt

1 tsp Black Pepper, freshly ground

Approx. 4oz Caul Fat (we used Kurobuta Caul Fat)

1 bunch Kale, washed & deribbed

1 clove of Garlic, crushed

More than ¼ cup Chicken Stock

7.5oz Crème Fraiche

Il Casolare Unfiltered Extra Virgin Olive Oil (could substitute other flavorful EVOO)

Micro Mustard Dijon for garnish (optional)

Additional Salt to taste

Lemon Juice to taste
DIRECTIONS
Some New Task of the Recipe:
1
Get some olive oil hot in a small frying pan & sweat (sauté over low heat) the shallot until slightly golden. Turn off the heat. Add the minced herbs. Let the mixture cool completely.
2
Add the peel-on apple, bacon, pepper, salt, and cooled shallot-herb mixture to the ground kangaroo in a bowl. Mix to combine & store it in the refrigerator until you're ready to use it.
3
Make the Apple Puree: Add the peeled apple to a pot with the white vinegar and just enough water to cover. Gently poach until tender. Drain & puree the apples. Mix them with the crème fraiche.
4
Defrost your caul fat and gently unroll it. Form the kangaroo meat mixture into 3oz patties and roll them individually in the caul fat netting, trimming off excess and thicker edge pieces. Ideally you should have a single, thin layer on all sides, but if you've got some bunching on one side from gathering the edges together to seal, that's ok.
5
Refrigerate the crepinettes for 20 minutes to firm up the caul fat. Preheat your oven to 350 degrees.
6
Get a thick layer of plain olive oil hot in a large frying pan. Add the clove of garlic and let it cook for half a minute, then add the kale.
7
Cook the kale over medium heat until it begins to wilt down, then add the chicken stock. Continue to cook, stirring occasionally, until the kale has completely wilted. If the pan starts to get too dry, add more chicken stock as needed to keep the kale from burning.
8
In a separate, oven safe frying pan, get plain olive oil hot over medium to medium-low heat. Season the crepinettes with salt & pepper.
9
Gently lay the crepinettes in the pan with the bunched side up. Cook slowly to render the caul fat while developing a nice crust.
10
Once the bottom is seared, flip the crepinettes and render the other side.
11
When both sides of the crepinettes are seared, move them to the oven to finish cooking through.
12
Season the kale with lemon juice and salt.
13
Put a layer of the apple puree down on the plate, then a pile of kale to the side. Place a crepinette (most beautiful side up) on top of the puree. Sprinkle on a little sea salt & finish with a drizzle of extra virgin olive oil. If desired, scatter some Micro Mustard Dijon around the plate.