Kalbi-Style Iberico Pork Spareribs with Seared Cabbage
Makes 4 Servings
WINE PAIRING
Spanish Garnacha
Spain meets Korea in this umami-packed spare rib recipe, sprinkled with toasted sesame seeds & served with lightly charred cabbage.
This recipe can be scaled up (possibly including the cooking time) for use with larger Kurobuta pork spare ribs.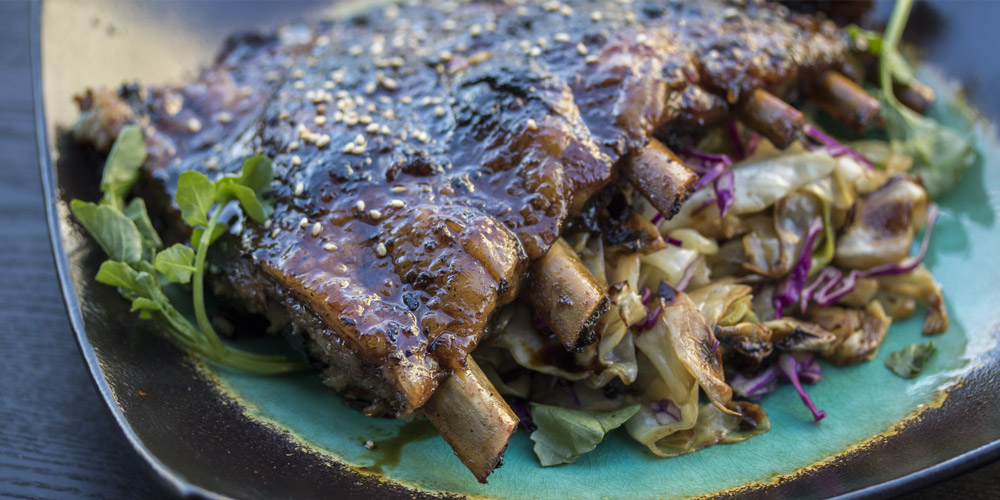 INGREDIENTS
Rub:
1 head Black Garlic, peeled & squished into a paste

½ cup Brown Sugar

¼ cup Toasted Sesame Oil

1 tbsp Mirin

2 tbsp Soy Sauce (we used Aged Tamari for depth & to keep the recipe gluten free)

2 tsp Kosher Salt

2 tsp Ground Black Pepper
Seared Cabbage:

4 cups Green and/or Red Cabbage, cut into large chunks

1 tbsp Toasted Sesame Oil

½ tsp Salt (plus extra to taste)
DIRECTIONS
1
Preheat your oven to 275°F.
2
Stir together all the rub ingredients in a small bowl.
3
Rub the ribs with the rub.
4
Wrap the ribs in foil & put them on a baking sheet. Move the ribs to the oven to slow roast until fork tender (2-3 hours).
5
Pour the cabbage into a wide frying pan over high heat. Drizzle it with the sesame oil & sprinkle it with salt. Toss frequently, but continue to cook until the cabbage is charred.
6
Drain the liquid off of the ribs and transfer it to a small bowl. Move the bowl to the freezer & chill it until the fat rises to the top and can be easily skimmed off.
7
Pour the liquid (minus the fat) into a small saucepan & simmer it until it's thick enough to coat the back of a spoon.
8
Cut the spare rib rack into two portions. Carefully sear each portion in a hot, oiled skillet, turning as necessary, to crisp & caramelize the surface meat. Brush the ribs with some of the reduced sauce as you're searing them.
9
Plate the ribs, brushed with a little more of the sauce, over piles of the charred cabbage. Sprinkle the plates with some sesame seeds.