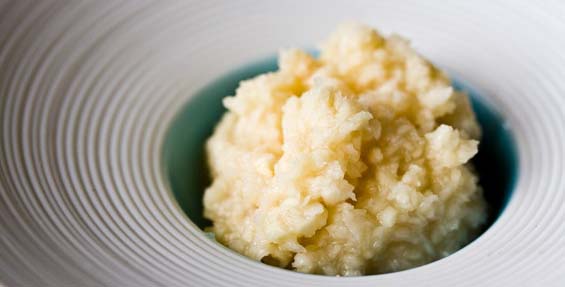 It is better than store bought.   And, simple to make.  But you have to really want to make it because it is hard on the eyes, nose and throat.  Really hard.  If your eyes can't handle you chopping onions, don't even think about making fresh horseradish.  I made the mistake of making horseradish inside — oh, boy — I felt like I was in a tear gas cloud.  Seriously…I have actually been in a tear gas cloud, so I know what I am talking about…it was in Lima when Fujimori was being evicted … Anyway, that's a story for another day. 
I think it is worth it.  And, so did my grandparents (who I got this recipe from).  They made it every year so that it could be piled upon gefilte fish.  But, they were smarter than me and made it outside.
Here's how to make homemade horseradish:
Peel the fresh horseradish like you would a carrot and then chop it in chunks that are small enough to fit in a food processor.  Process it until your throat burns, you are crying and you have been pushed beyond your pain threshold.  That is at least when I decided to stop.  Fortunately, it was at the same time that I arrived at the other indicator of completion: the horseradish was finely minced.
Add a pinch of salt.  Fill up your jars with horseradish and then top them with some white vinegar (or any other vinegar that you want). 
It lasts a long time.  At least six months.
___________
Browse More:
Root & Rhizome Recipes
Culinary Techniques