On a recent trip to Belize, my wife and I spent some time on a 3 acre island wildlife preserve in the middle of the barrier reef.  It was amazing and so were the lobster tails that we ate fresh out of the water.  Our host taught me a simple, yet incredibly tasty method for preparing lobster tails.
Directions:
1. Open the lobster: Point the tip onto a cutting board. Use the palm of your hand to apply pressure to the thick part of the lobster tail. Once you cut the first segment, continue applying pressure to cut the top shell of the whole tail.  Open it up so that the flesh faces up.

2. Put the lobster tail in a shallow roasting pan, okay.  (our host finished every instruction with "okay", but imagine it in a sassy island accent)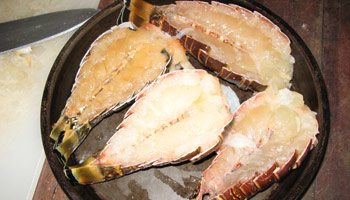 3. Use whatever seasoning you use at home, Okay.    When I did get home and recreated this, I used only salt, pepper and a teaspoon or so of butter.  I have since discovered tarragon butter and I would imagine that would be quite nice.
4. If using the oven, use high heat or the broiler to cook for three minutes, then rotate and cook another three minutes, okay.  (at home, I used a cast iron skillet … I first heated it, then popped the tails in and threw it in the broiler for the times listed above)
5. Let sit at room temperature (if possible) for 30 minutes, okay.  Serve with some rice and beans … and to do it in true belizean style, lots of Marie Sharp's hot sauce.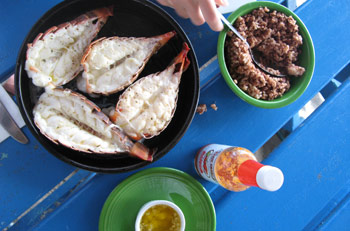 6. To make up the garlic butter, simply take minced garlic and butter…and warm it up, okay.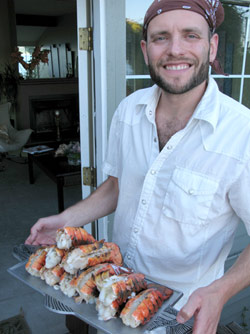 ___________
Browse More:
Seafood Recipes