These turnovers couldn't be easier. The better the quality of your puff pastry and jam, the better the resulting turnovers will be, so it pays to use the good stuff.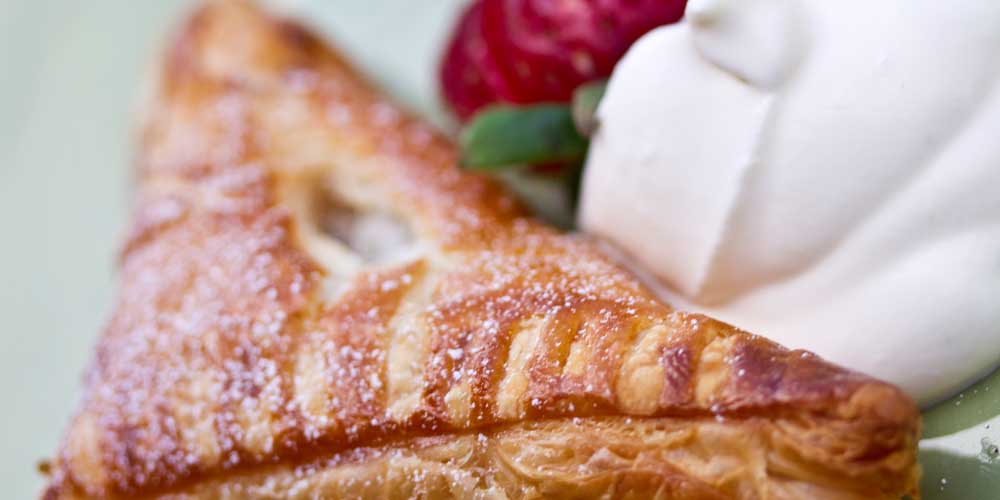 INGREDIENTS
1 Package Puff Pastry (preferably all butter)

1 Egg

1 tsp Heavy Whipping Cream

12 tbsp Jam (we used Strawberry Jam in some & Apricot Jam in others)

All Purpose Flour
Optional Garnishes:

Whipped Cream & Cut Berries
DIRECTIONS
2
Preheat your oven to 400˚F.
3
Stir together the egg and heavy cream to combine.
4
Lightly flour your table top or cutting board. Unfold one sheet of puff pastry. Lightly flour the top, and gently roll over the puff pastry with a rolling pin to fix the creases.
5
Brush off the excess flour from the puff pastry. Cut the sheet in half lengthwise, then cut each half into three squares (six total per sheet). Gently pull all the squares apart to separate them.
6
Repeat steps 3 & 4 with the second sheet in the package.
7
Brush two connected sides of each square (for example, the left side and bottom) with the egg wash mixture.
8
Dollop a scant tablespoon of jam onto the corner where the egg wash connects, just above the egg wash (not on the egg wash).
9
Fold the opposite corner over to connect the edges and create an envelope. Gently press the edges together.
10
Crimp the non-fold edges with a fork and move the turnovers to a baking sheet with room between them. Put the pan in your fridge or freezer for ten minutes.
11
Remove the turnovers from the fridge/freezer and cut two small slits into the top of each one (to let steam escape).
12
Brush the tops with the remaining egg wash.
13
Bake the turnovers until they turn golden brown (about 15 minutes).
14
Remove the turnovers from the oven and let them cool until safe to eat.
15
Serve as is, topped with powdered sugar, or with whipped cream and fresh berries.
Recipe by Rebecca Staffel of Deluxe Foods