Deana of Lost Past Remembered brings us this facinating pair of recipes drawn forward into the modern era from a sixteenth century Italian cookbook classic. These recipes mingle beef with flavors like dried cherries, saffron, and fennel pollen…just reading them makes our mouths water (even before looking at her photos).  Not only that, but in her usual style, you even get a history lesson on one of the great (underappreciated today) Italian chefs!
————-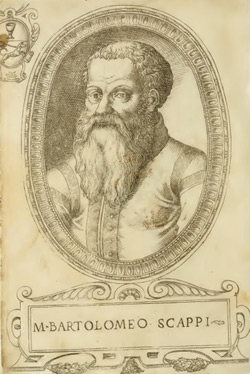 Bartolomeo Scappi  (1500-1577)
Last month The Guardian (a British newspaper ranked 2nd only to the NY Times for online English-speaking readership) listed the 50 greatest cookbooks of all time.  On this list were many contemporary classics. But right next to David Chang's uber-trendy "The Momofuku Cookbook" was  Opera dell'arte del cucinare   published in 1570!!!  With 1000 recipes, it is THE book of Italian Renaissance cooking written by Bartolomeo Scappi and set the standard for cookbooks thereafter. History is hot!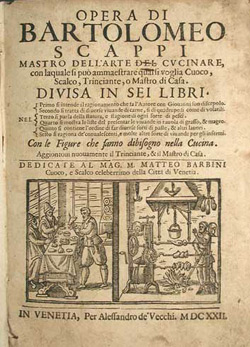 Title page of Opera
What we know of Scappi began with his work in the service of Cardinal Lorenzo Campeggio where he created spectacular banquets that made him famous.  From there he moved to service with Pope Pius IV and then Pius V. He wrote his cookbook while working for Pius V, who ironically was an ascetic who demurred the opulent table of his predecessor! Perhaps a less demanding schedule gave him the time he needed to do his cookbook.  For that we are most grateful.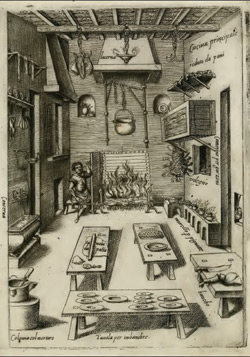 Table for preparing banquets from Opera
Terence Scully has translated the work "The Opera of Bartolomeo Scappi"  into English and it is available to sample on Google Books.  After the sample, you may just want to break down and buy the book on Amazon… it is that good. Ken Albala, a noted food historian says, "Quite simply Scappi's Opera is the first modern cookbook. It is not a shorthand list of recipes to jog the professional chef's mind, it actually teaches how to cook, and is in that respect on par with the best works of Julia Child. It includes shopping advice, tips on equipment, menu organization, and even multiple variable techniques when confronted with every imaginable ingredient – including bears and hedgehogs. It is also the first fully and lavishly illustrated cookbook. Most importantly, the recipes really work and are the result of years of practical experience in the kitchen. It remains the single greatest monument of Italian cuisine, overshadowing even the great Artusi. Arguably it is among the greatest of cookbooks ever written and the recent translation of Scully finally makes it available to English speaking audiences."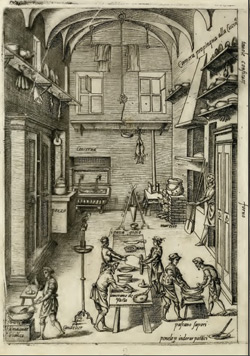 Room Near Kitchen from Opera
Or, if your Italian is good, you can see the original online and work from that, the facsimile is a real joy to behold (Scappi's batterie de cuisine would turn any chef green with envy). Any way you do it, it is a rich and beautiful book that will send your cooking path into an empyrean realm with recipes that are, for the most part, accessible and re-creatable and fit for a Renaissance pope.
All of the items in these recipes are available today. The vin cotto is available at specialty food stores (or can be made by reducing red wine to a syrup) and is a great little secret ingredient to enrich stocks and sauces (Mario Batali loves it).  Rose Essence is available from Aftelier.  My beef is grass-fed (better tasting and better for you!!) and it and the amazing fennel pollen (that brings a gentle spiced sweetness to the spice mix) can be purchased at MarxFoods.com.  You can see the tiny golden flecks on the meat!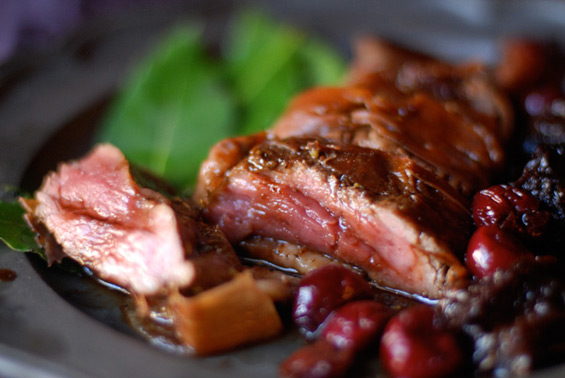 Scappi's Braised Beef  
serves 4
1 ½ lbs tenderloin of beef or use individual filets (or use a 2 lb. chunk of beef sirloin and cook it a little longer)
¼ c wine
¼ c white wine vinegar
1 t each pepper, salt and fennel pollen
½ t each cinnamon, ginger
¼ t cloves
1 cup Madeira (Rare Wine Company Boston Bual)
½ c vin cotto
½ c white wine vinegar
2 drops Aftelier rose essence or 1 T rosewater
2-4 strips bacon
¼ lb prosciutto
1 c prunes(softened in 1 cup water and 2 T madeira for 1 minute in the microwave)
1 c frozen sour cherries or ½ c dried cherries
Rinse the beef with the wine and vinegar.  Put the spices and salt on a plate, blend and roll the meat in them.  Place the meat in a non-reactive dish with the Madeira, vin cotto and vinegar with rose essence or rose water for four hours, turning once if it is not completely covered.
Brown meat quickly after wrapping it with bacon and prosciutto then braise with the marinade, prunes and cherries for 20 minutes to 1/2 hour covered at a low heat (depending upon how rare you want it and how thick your tenderloin is) for the whole tenderloin and 10 minutes (or less) covered for the individual filets for rare.  Remove the meat and tent and reduce the sauce if desired.
*** the amounts are all approximate as they are not mentioned in the original… make changes as it suits your taste.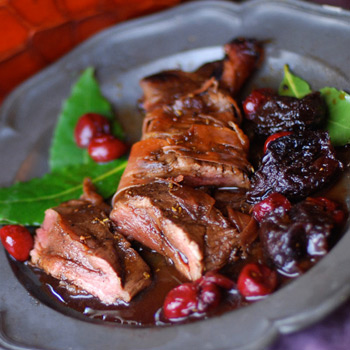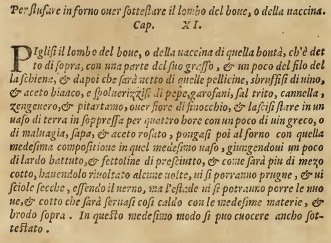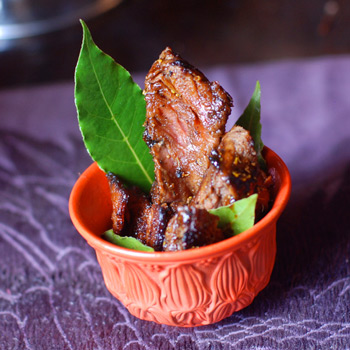 Scappi's Fingers of Beef in the Roman Style
serves 4 as a main course and 8 as an appetizer
4 beef filets (4 oz each)
1 t salt
1 t pepper
1 t fennel pollen
½ t each ginger, cinnamon
pinch of saffron and cloves
¼ c vin cotto
2 T white wine vinegar
1-2 drops rose essence or 1 T rosewater
3-5 slices bacon
4 bay leaves (fresh are best) or large sage leaves  
Take the filets and roll them in the blended spices and salt. Put the filets and the bacon in a non-reactive container with the vin cotta, vinegar and rose and marinate for a few hours.   Take them out and put bacon and the bay or sage leaves between the filets and skewer them together… not too tightly (if you have a spit attachment, this is best)… like shish kabob.  Grill them on the cool side of the grill till the desired degree of doneness with a drip pan, turning them a few times OR if you have not grill, sauté the bacon and then fry the filets till they reach the desired degree of doneness.  Add the marinade to the drip pan/pan to warm. I sliced my filet into fingers to serve them along with the crisp bacon and the sauce drizzled over them.
*** the amounts are all approximate as they are not mentioned in the original… make changes as it suits your taste.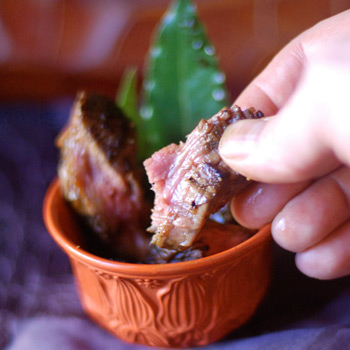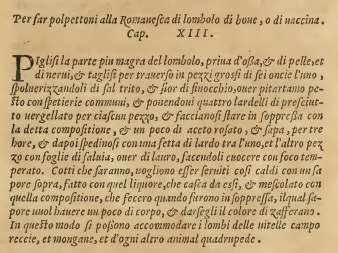 ___________
Browse More:
Steak Recipes
Fennel Pollen Recipes
Tenderloin Recipes
Grass-Fed Beef Recipes