Indian Bread Salad with Tomatoes, Garbanzo Beans, Cucumbers & Paneer
This salad is a refreshing fusion of Italian panzanella and Indian flavors.
The baked chickpeas are also delicious on their own as an easy snack.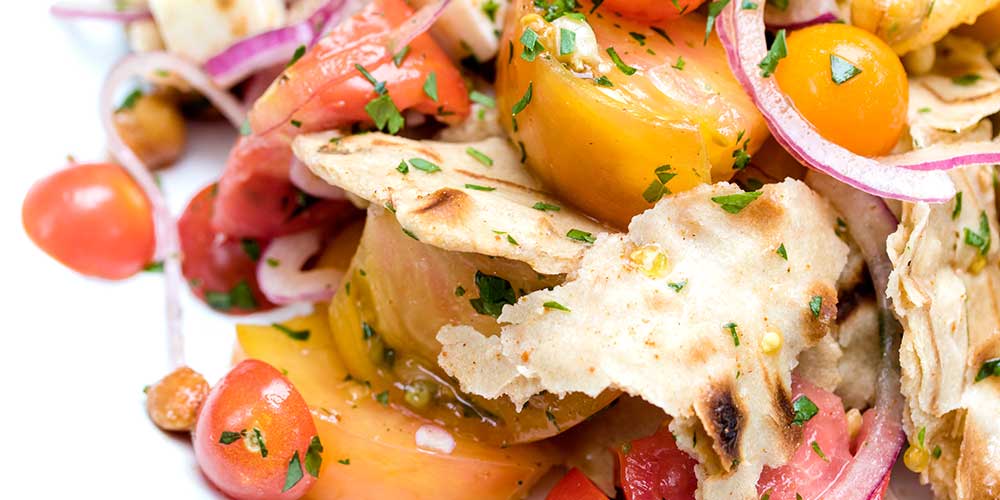 INGREDIENTS
Baked Chickpeas:

1 small can Chickpeas, drained & dried

2 tsp Kefta Rub

1 tsp Sherry Vinegar Gran Reserva
1 package Roti (could substitute Whole Wheat Naan)

4 Heirloom Tomatoes, cut into wedges

½ Red Onion, sliced into thin half-moons

¼ cup chopped Fresh Flat Leaf Parsley

1 cup Cherry Tomatoes, halved (we used half red, half orange)

1/2 cup toasted Pine Nuts

1/3lb Paneer, cubed

2 tbsp Apple Cider Vinegar

2 tbsp Extra Virgin Olive Oil

1 tsp Kefta Rub (or to taste)

Squeeze of Lemon
DIRECTIONS
1
Preheat your oven to 500°F.
2
Spread the chickpeas out on a shallow baking dish & put it in the oven. Roast them for 20 minutes.
3
Take the chickpeas out of the oven. Sprinkle them with the kefta rub & sherry vinegar.  Jiggle the pan to coat them.  Let the chickpeas cool completely.
4
Toast the roti or naan on an oiled grill or pan. Crumble or cut it into bite-sized portions.
5
Toss together the chickpeas, tomatoes (both kinds), pine nuts, paneer, onion & parsley.
6
Stir in the lemon juice, apple cider vinegar, and additional kefta rub.