Pimenton-Rubbed Iberico Tenderloin & Patatas Bravas
The sweet-savory-lightly spicy rub in this recipe tastes a bit like a Spanish take on barbecue.  A luxuriously tender Iberico pork tenderloin is rubbed with it, seared & served with creamy garlic Spanish all i oli spread & fried potatoes (Patatas Bravas).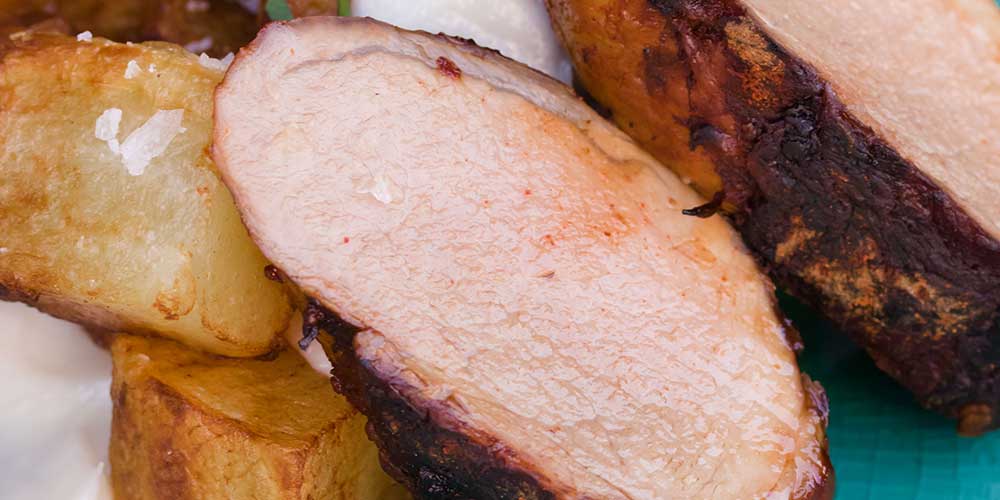 INGREDIENTS
1 jar All I Oli

Small Quantity Fresh Flat Leaf Parsley, minced
Rub:

1/2 cup Brown Sugar

1/2 tbsp Spicy Pimenton

3/4 tsp Small Grain Sea Salt (we used Vancouver Island Sea Salt)
Patatas:

6 Yukon Gold Potatoes

Canola Oil

Salt
DIRECTIONS
1
Combine the rub ingredients & stir well to combine.
2
Pat the tenderloin dry & apply the rub on all sides.
3
Refrigerate the tenderloin until you're ready to cook it.
4
Preheat your oven to 425°F.
5
Peel the potatoes & cut them into large cubes.
6
Blanch the potato cubes in boiling water or five minutes. Drain off the water.
7
Scrape off some of the rub so it's not caked on the tenderloin too heavily.
8
Oil a large, oven safe pan & get it hot over high heat. Lay the tenderloin into the pan & sear it on both sides until it forms a browned crust.
9
Move the pan to the oven to roast the tenderloin to your desired level of doneness.
10
Get a skillet oiled with canola oil ¼" deep very hot over high heat. Add the potatoes & fry them, turning as they brown, until browned on all sides.
Work in batches if necessary, removing cooked potatoes to paper towels to drain & immediately sprinkling them with fine sea salt.
11
When the tenderloin is cooked, remove it from the oven and let it rest on a plate, loosely covered with foil, for 5-10 minutes.
12
Slice the tenderloin & serve portions with the fried potatoes & all i oli, sprinkled with parsley.