Iberico Pork Secreto with Fig, Chorizo, Corn & Plum Salad
Makes 8 Servings
WINE PAIRING
Grand Reserva Rioja Bianco
Rich, sweet grilled Iberico pork balanced with a warm fruity, savory-tangy-herby chorizo, fig & corn salad.  This recipe is exquisite, one of our favorites from this photo shoot!
If it's too cold to grill outside, you can also sear the pork, figs & corn inside in an oiled pan over high heat.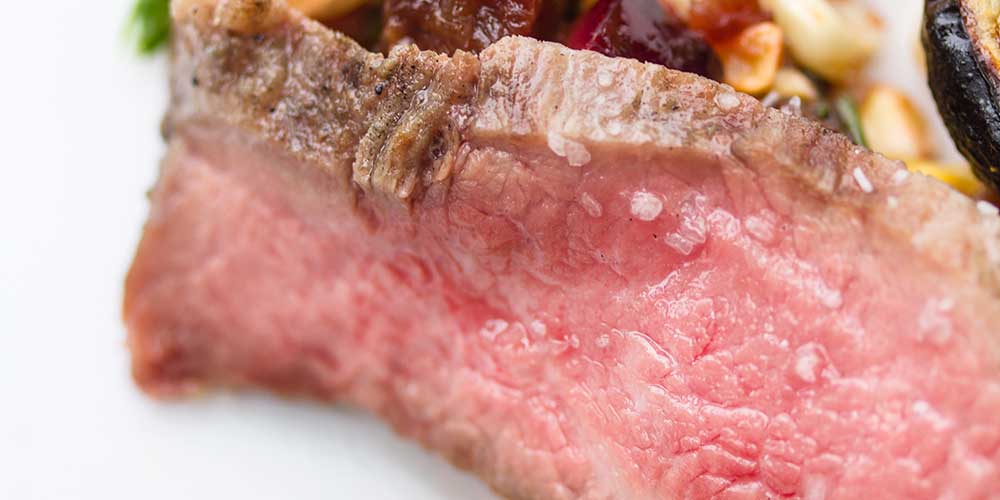 INGREDIENTS
Fig & Corn Salad:
2 Onions, small diced & caramelized
12oz Spanish Dry Cured Chorizo, small diced

3 Black Plums, pitted & cubed

3 Ears of Sweet Corn

12 Fresh Figs (Mission, Calimyrna, or a Blend)

1/8 cup Sherry Vinegar (we used Gran Reserva Sherry Vinegar)

¼ cup chopped Fresh Flat Leaf (Italian) Parsley

1 tbsp Olive Oil
DIRECTIONS
1
Render the fat out of the chorizo cubes in a dry pan over medium-low heat until they're lightly crispy. Stir the chorizo (without the rendered fat) into the caramelized onions.
2
De-stem & halve the figs.
3
Season the pork liberally with salt.
4
Grill the figs, cut-side down, until well caramelized. Flip them & grill for another 30 seconds.
5
Grill the corn on the cob, turning it periodically, just until it starts to pick up some char on each side.
6
Cut the kernels off of the corn cobs & stir them into the chorizo & onion mixture with the plums, figs, sherry vinegar, parsley & olive oil. Gently warm through in a frying pan on the stove, stirring.
7
Get a well-oiled frying pan or grill very hot over high heat. Sear the secreto on both sides until just cooked to your preferred doneness (the Spanish typically cook Iberico to medium rare (130°F), but the USDA recommends all pork be cooked to 145°F).
8
Remove the secreto from the heat & let it rest, loosely covered with foil, for 10 minutes before slicing.