Iberico Pork Shoulder with Garlic, Olives & Roasted Peppers
WINE PAIRING
Garnacha
The succulent richness of Spanish Iberico pork pairs beautifully with fruity roasted peppers, tangy olives, bright lemon, and resinous rosemary. The presa cut may be called the "shoulder steak" in English, but don't let "shoulder" throw you – this cut is tender with a meaty chew.  Excellent for pan searing or oven roasting.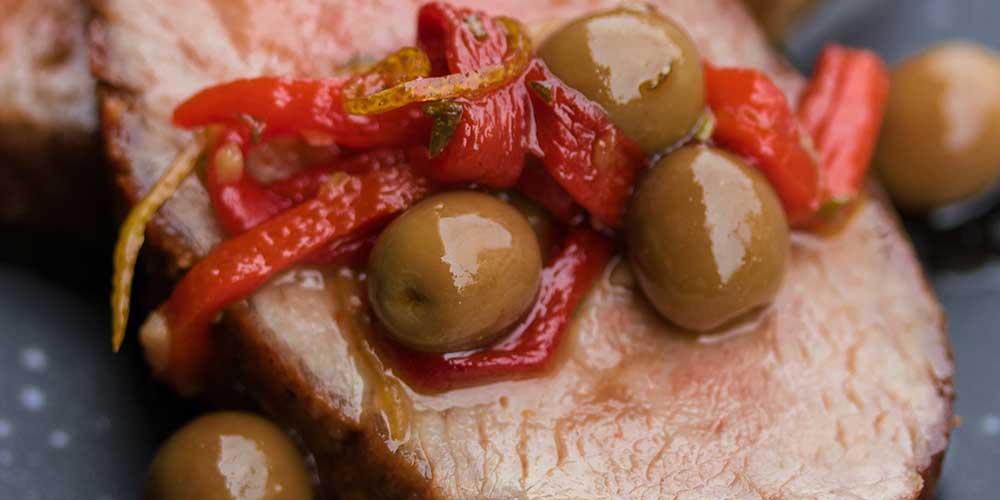 INGREDIENTS
4 cloves of Garlic, minced

2 tablespoons Extra Virgin Olive Oil

2 tsp Fresh Rosemary Leaves, minced

4oz Piquillo Peppers, drained & julienned (could substitute roasted red pepper)

½ cup Arbequina Olives

Zest of 1 Lemon, micro-planed or julienned

2 tbsp Dry Sherry

1 tbsp + 1 tsp Lemon Juice

1 tsp Honey
DIRECTIONS
1
"Sweat" the minced garlic in the olive oil until softened – the heat should be high enough for the water to evaporate out of the garlic, but it shouldn't brown at all.
2
Strain the garlic out of the oil & reserve it. Return the oil to the pan.
3
Sear the Iberico pork presa in the garlic-infused oil, turning it as necessary, until browned on all sides and cooked to an internal temperature of 130°F (Medium Rare).
Note: The Spanish prefer Iberico pork cooked to Medium Rare, and we agree.  However, the USDA recommends all pork be cooked to an internal temperature of 145°F for safety.
4
Remove the pork from the pan and let it rest, loosely covered with foil, on a clean plate for 15 minutes.
5
Pour any juices that have collected on the resting plate into the pan where you cooked the pork.
6
Add the piquillo peppers, rosemary leaves, arbequina olives, lemon zest, reserved garlic, lemon juice, honey and dry sherry. Scrape any browned bits off the bottom of the pan & cook until the liquid comes to a simmer.
7
Thinly slice the Iberico against the grain. Season each slice with salt & drizzle it with the olive, lemon & pepper sauce.