Iberico Pork Steaks with Frites
Makes 2 Servings
WINE PAIRING
Spanish Monestrell
It doesn't take much to make Iberico pork delicious.  In fact, many people feel simple is best.  Here we've cut the tender shoulder steak into individual servings, seasoned it with salt, and seared it.  Paired with homemade crispy-creamy French fries, it's left to shine all on its own merits.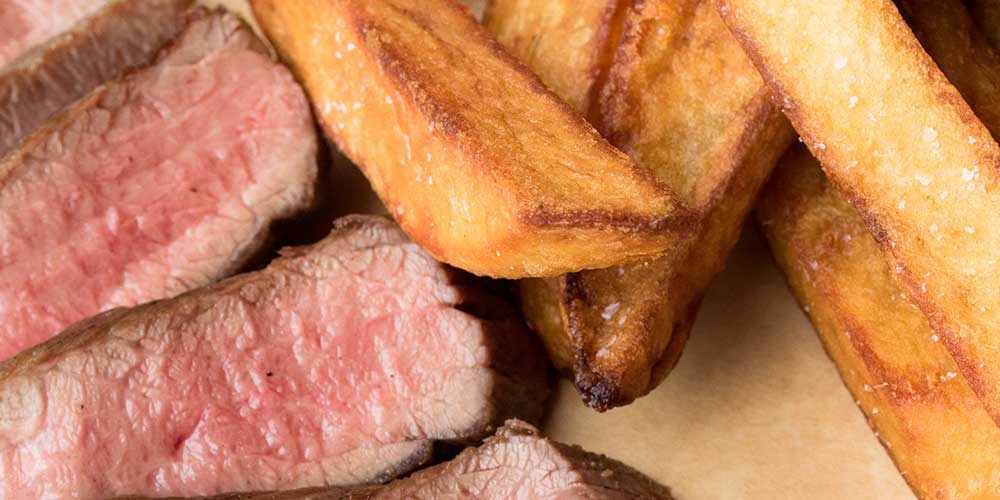 INGREDIENTS
2 Russet Potatoes

Lemon Juice

Frying OIl

Salt
DIRECTIONS
1
Cut the potatoes into thick fries (batonnet cut).
As you cut the potatoes, put the cut fries in ice water with a little lemon juice to keep them from browning.
2
Heat a deep layer of oil (about 3″) in a deep pot to 325°F.
3
Remove the fries from the water & dry them thoroughly. Fry them in the oil for 3 minutes, then remove them from the oil to drain on paper towels.
4
Dry any surface moisture from the pork & cut it against the grain into 1″ thick steaks.  Season each steak on both sides with salt.
5
Get a skillet or frying pan, oiled with high heat oil very hot over high heat. Gently lay in the pork steaks & sear them to your preferred doneness, turning as necessary (we like cooking it as the Spanish do, to medium rare at 125-130°F*) & basting them with the oil.
6
Remove the pork from the pan and let it rest, loosely covered with foil, for ten minutes.
7
Heat the oil to 375°F & fry the fries again, working in batches, until they're golden brown. Remove them from the oil & drain them on fresh paper towels.  Season with salt.
8
Slice the pork steaks & serve them with the fries.
* The USDA recommends that all pork be cooked to an internal temperature of 145°F for safety.