Iberico Pork Chops with Romanesco & Spiced Sweet Potatoes
Elegant, marbled, delicious bone-in Iberico pork chops served with spicy-sweet roasted sweet potatoes and Romanesco florets.  It doesn't take more than salt & pepper to make these chops delicious, Iberico is already so packed with flavor.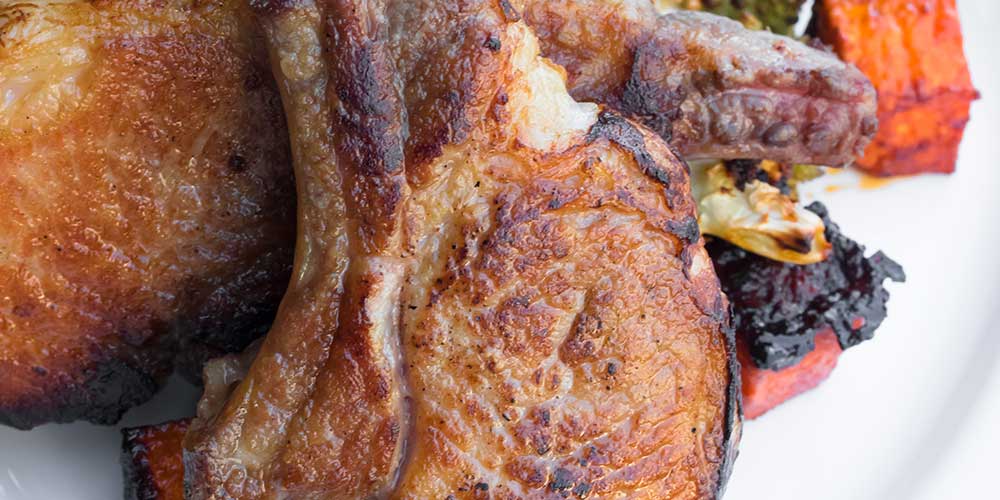 INGREDIENTS
Spiced Sweet Potatoes:

4 Sweet Potatoes, peeled & cut into 1" cubes

2 tbsp Brown Sugar

1 ½ tsp Spicy Pimenton

1 ½ tsp Fine Salt

Olive Oil
Romanesco:

4 heads Romanesco, cut into small florets

Salt

Pepper

Olive Oil
DIRECTIONS
1
Preheat your oven to 425°F.
2
Toss the sweet potato cubes in the brown sugar, pimenton, salt and olive oil to coat.
3
Spread the cubes out on parchment paper on a baking sheet. Roast them in the oven until tender.
4
Toss the romanesco florets with salt, pepper & olive oil, then spread them out on a baking sheet. Roast them in the oven until tender & well browned (almost blackened), on the edges.
5
Slice the rack into chops by cutting between each pair of bones. Pat the chops dry & season both sides with salt & (lightly) with pepper.  Rub them with canola oil.
6
Get a dry frying pan or skillet very hot over high heat.
7
Lay in the chops and sear them on all sides until well browned & cooked to your desired doneness. You may have to work in batches.
8
Let the chops rest on a plate, loosely covered with foil, for 5-10 minutes.
9
Serve the chops with the sweet potato cubes & romanesco.