Wild Boar Chops w/ Sage Huckleberry Sauce
Rich, perfectly cooked sous vide wild boar chops paired with a fruity/tangy/herby sage & huckleberry sauce evoking the forest.
If you don't have a sous vide machine, you can also adapt this recipe for roasting in the oven, or slice the rack into chops and pan sear them.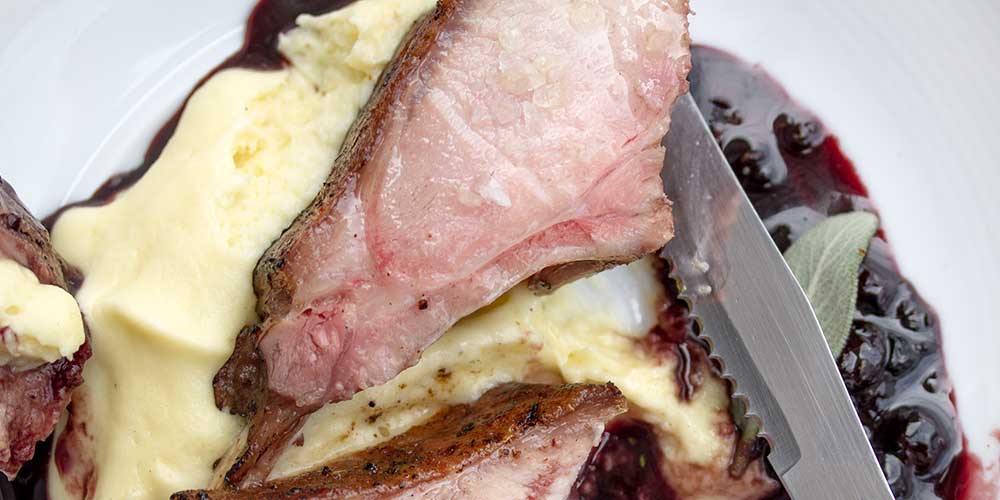 INGREDIENTS
1 sprig Fresh Sage

2 tbsp minced Shallot

1 clove Garlic, minced

8oz Wild Huckleberries (fresh or thawed)

½ cup Balsamic Vinegar

3 large tbsp Beef or Veal Demi Glace

2 tbsp minced Fresh Sage

2 tbsp Butter

High Heat Oil
Flake Salt & Fresh Sage for Garnish
DIRECTIONS
1
Preheat your sous vide bath to 140F.
2
Season the rack with salt & pepper (use less than you would when grilling, broiling, etc).  Put it in a vacuum bag with the sage.
3
Put the rack in the water bath, let the water temperature come back to 140 degrees, and then cook for 1 ½ hours.
4
Remove the rack from the bag & dry off all the surface moisture.  Get a large frying pan or cast iron skillet, oiled with 2 tbsp of high-heat oil, very hot.
5
Press the rack down into the surface of the pan, bone-side up, to develop a nice sear.  Repeat with the bone side (getting a good sear will be tricky, but do your best).
6
Optional: Use a kitchen torch to brulee the bones for a better presentation.
7
Remove the rack from the pan.  Drain all but a teaspoon of fat out of the pan, and add the shallot, garlic, balsamic vinegar, veal/beef demi and huckleberries.  Season with salt & pepper to taste.
8
Simmer the huckleberry mixture until the pan is almost dry.  Stir in the sage and the butter.
9
Cut the rack into individual chops.  Serve them with the huckleberry sauce and your side of choice.