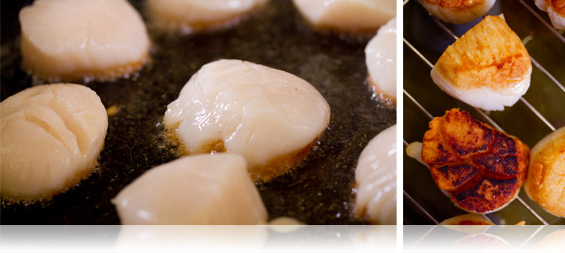 Searing scallops is one of the simplest methods to prepare them.  The goal is to get a golden brown, flavorful crust on the outside while leaving the inside exquisitely tender.  Below is the method we use for our fresh sea scallops.
Drink Pairing (with below side): Pinot Gris
Directions:
1. If they're still attached, remove the small side muscles from the scallops and discard them.  Season the scallops with salt.
2. Heat a millimeter deep layer of oil in a large frying pan or cast iron skillet over high heat, just until it starts to smoke.
3. Add the scallops to the pan, taking care not to crowd them.  Once they touch the pan, they will stick.  Do not try to move them.  They will release from the pan naturally when they're close to being ready to flip.
4. Sear them hard on one side to develop a good brown crust.
5. Turn off the heat, flip the scallops and let them cook in the residual heat for about thirty seconds, just until opaque.
_____________
Browse More:
Scallop Recipes
Seafood Recipes & Techniques
All Culinary Techniques