How to Cook a Boneless Beef Ribeye Roast
Makes 10-15 Servings
WINE PAIRING
Bordeaux
Aribeye roast is the perfect luxurious centerpiece for fancy dinners & gatherings.  It's not only one of the best beef cuts, but it's also surprisingly easy to cook.  The secrets are good beef, a good sear, cooking it low and slow, and finally letting it rest before slicing.
Want to cook a beautiful bone-in ribeye roast (aka a "standing rib roast")?  Check out our recipe here.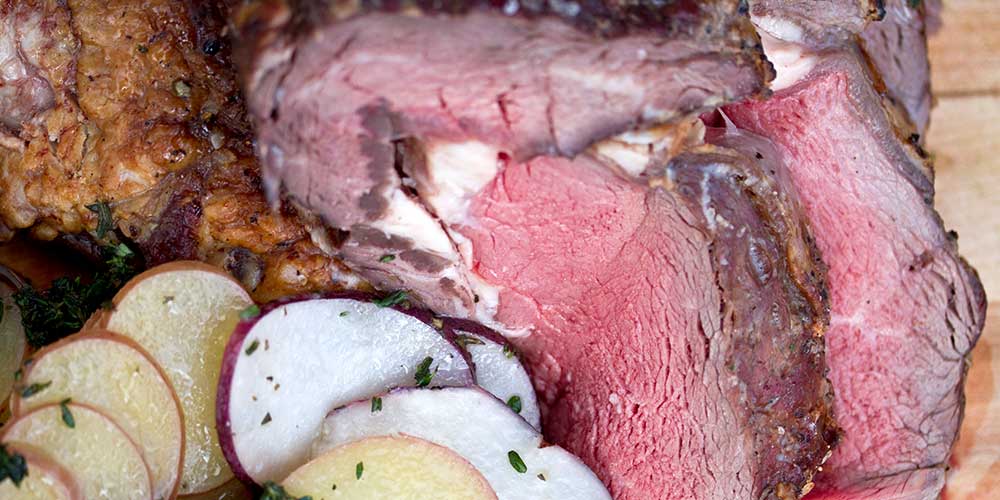 DIRECTIONS
1
Preheat your oven to 300°F.
3
Cut the ribeye roll into portions that can be seared easily in your largest pan (we cut ours into 2 halves). Liberally salt the roast.
4
Sear the roast portions in a well-oiled, wide frying pan or cast iron skillet over high heat, turning as necessary, until well-browned on all sides.
5
Move the ribeye roasts to a roasting pan & slow-roast them to an internal temperature of 130°F (this will likely take somewhere around 2 hours). Turn them every half hour to ensure even cooking.
6
Remove the roasts from the oven & let them rest for 20 minutes before slicing.
7
Serve with your choice of sides.