Makes 4 Servings
WINE PAIRING
Cabernet Sauvignon
Plump, juicy whole quail marinated in a blend of herbs and grapes, seared on a grill pan & then finished in the oven. The leftover marinade is cooked down for use as a sauce.
This recipe could also be adapted for use on an outdoor grill. Grill the marinated quail over direct heat to mark them, them move them to the side of the flames (indirect heat) and close the grill lid to cook them the rest of the way through.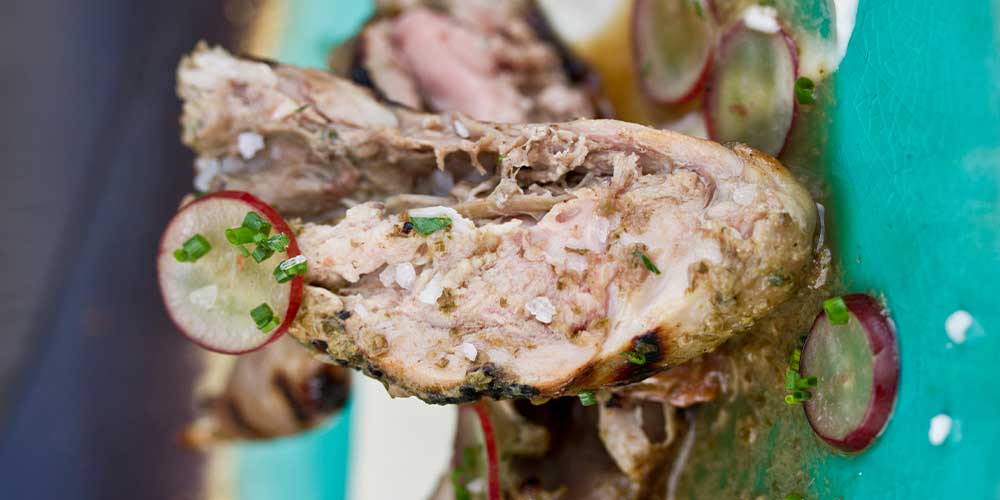 INGREDIENTS
3/4 oz (half-pack) Chicken Demi-Glace Gold
Marinade:

½ lb Seedless Grapes, red or green, plus additional for garnish

2 tbsp Fresh Flat Leaf Parsley Leaves

2 tbsp Fresh Mint Leaves

1 tbsp Fresh Tarragon Leaves

2 tbsp Fennel Fronds or 1 tbsp Dried Anise Hyssop

1 tbsp Salt

½ tsp freshly cracked Black Pepper
DIRECTIONS
1
In a blender combine the grapes, parsley, mint, tarragon, salt, pepper, and anise hyssop or fennel fronds. Blend to combine & break everything down.
2
Rinse the quail. Rub the quail with the marinade on all sides to ensure coverage and then submerge them in the rest in a zip-top bag or other container. Marinate them in the fridge for six hours or overnight.
3
After marinating, preheat your oven to 375 degrees.
4
Pour off the excess marinade into a pot over low heat. Add the demi glace gold and 2 cups of water. Simmer until the resulting sauce has thickened enough to coat the back of a spoon.
5
Get a lightly-oiled grill pan very hot and lay in the quail, breast-side down.
6
Once the breast-side of the quail has developed good grill marks, flip them. Cook until the other side is also marked.
7
Move the quail to the oven and roast them for 8-10 minutes, until the juices run clear.
8
Cut the quail in half down the breast bone. Serve them atop your chosen starch, drizzle the plate with the sauce and garnish with a few thinly sliced grapes. Serve.