Heirloom Tomato & Goat Cheese Salad
Makes 4 Servings
WINE PAIRING
Rosé from Provence, France
This light salad is the perfect way to celebrate tomato season – an upscale twist on caprese salad that substitutes a tomato, basil, pomegranate vinaigrette for the usual oil & balsamic vinegar.
You could swap the goat cheese in this recipe for chunks of fresh mozzarella or burrata cheese.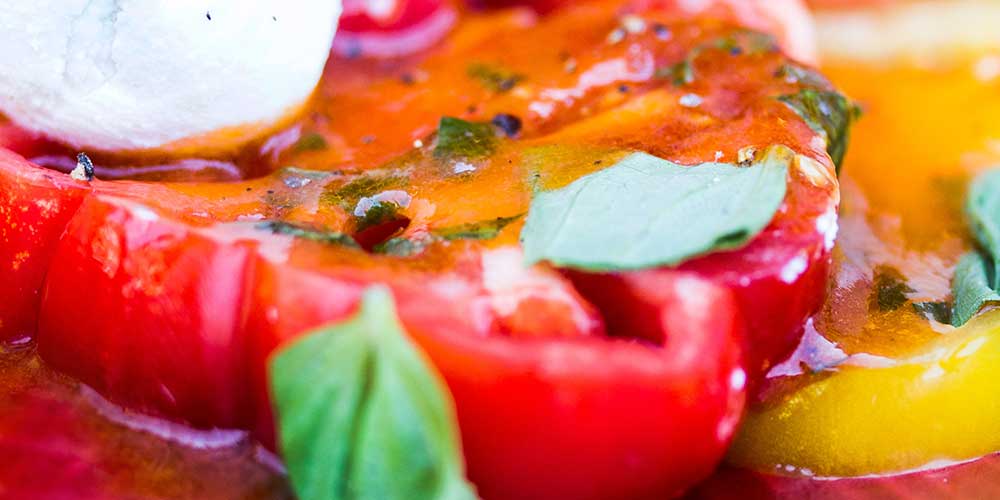 INGREDIENTS
2 oz Goat Cheese (Chevre)

Heirloom Tomatoes (enough for 8 thick slices – amount varies with size of tomatoes)

Dill Pollen

Fresh Basil Leaves, torn

Black Pepper

Sea Salt
Vinaigrette:

1/3 cup Chopped Red Tomato (preferably heirloom)

1 tbsp Chopped Fresh Basil

3 tbsp Pomegranate Drinking Vinegar

1/3 cup Fine Extra Virgin Olive Oil

Pepper to Taste

Smoked Flake Salt to Taste
DIRECTIONS
1
Make the vinaigrette dressing (you'll end up with more than you need for this recipe).
2
Separate the goat cheese into four pieces and roll each one into a ball.
3
Slice the tomatoes into eight thick slices & lay them out in a ring on your platter. Sprinkle them with salt & pepper.
4
Roughly chop the rest of the tomatoes and put the pieces in a pile in the center of the ring.
5
Dip one side of each goat cheese ball in dill pollen to give it a "dot" (see photo).
6
Arrange the balls around the platter & sprinkle the tomatoes with the torn basil.
7
Drizzle the platter with the dressing.